Ex Oriente Film x DOK Industry
default
The Ex Oriente Film workshop, esteemed project-based training initiative from the Institute of Documentary Film (IDF), takes place for the first time in Leipzig. Several masterclasses, lectures and case-studies are open to all DOK Industry accredited guests.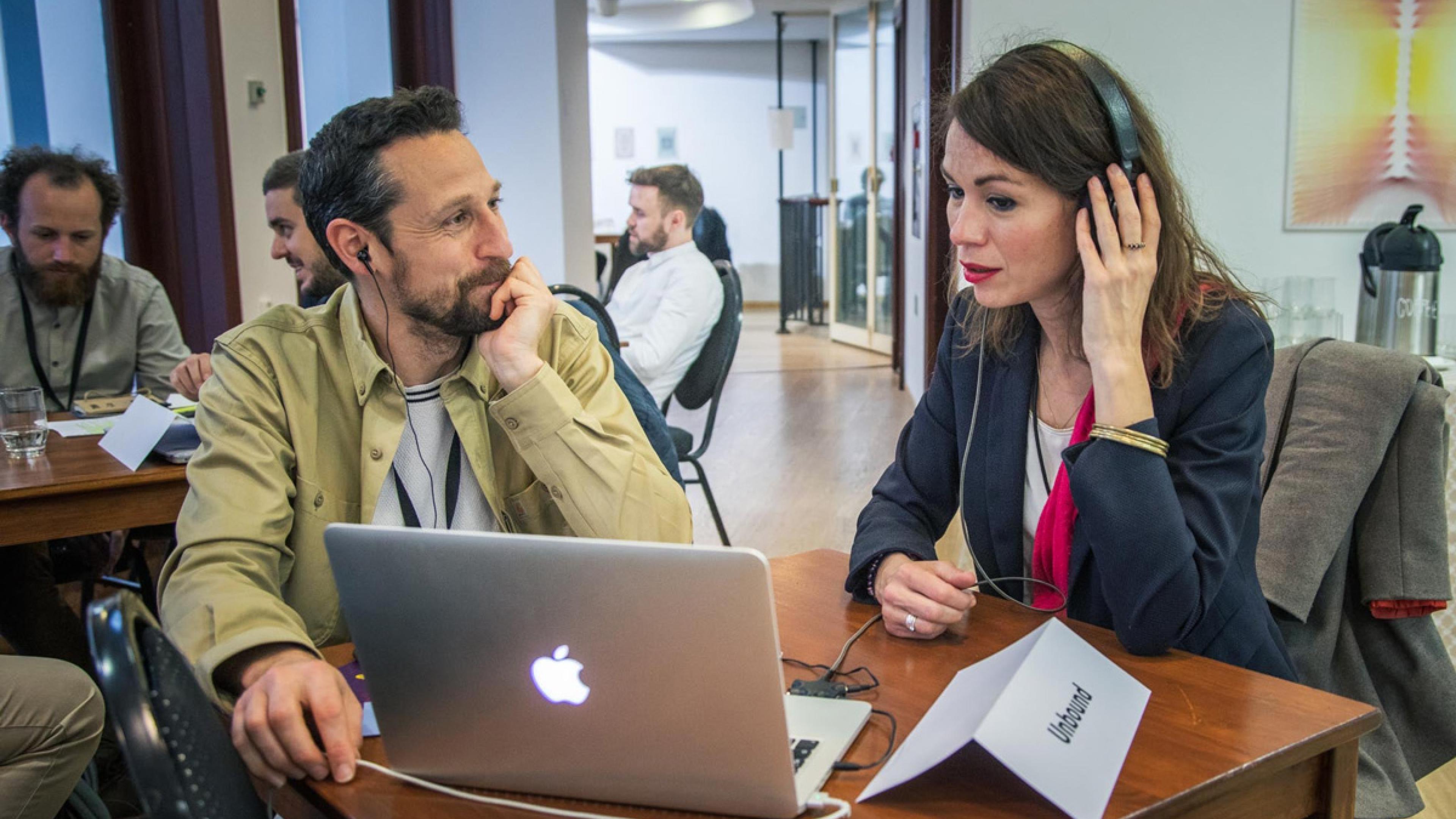 About
The upcoming collaboration between DOK Leipzig and Ex Oriente Film is set to be a highlight of the DOK Industry programme. For the first time, the workshop is taking place alongside DOK Leipzig. 37 filmmakers and producers will converge in Leipzig to participate in the second session of Ex Oriente Film feature documentary and doc series workshops, resuming their training and mentorship programme. This partnership extends parts of its programme to the wider DOK Industry community, offering access to an array of masterclasses, lectures and case studies.
Producing Documentary Series: Case Study by Producer Florian Schewe (Film Five)
Independent producer Florian Schewe is the co-founder of Berlin-based award-winning production company Film Five, dedicated to producing high quality documentaries, documentary series, and narrative features for local and global audiences.
In this session, Florian Schewe will share insights and various aspects of the company's path in producing a successful documentary series. With the use of concrete examples, this interactive lecture will let producers gain knowledge about the advantages and disadvantages of diverse ways of producing episodic factual series for digital channels and streaming platforms, from the first idea to the pitch, from the commission to production and ultimately to the broadcast. Is it sustainable to develop a documentary series project independently without distribution and broadcaster already in place? What are the risks and what are the benefits?
---
Language:
English
Access:
Accredited guests welcome
When & Where
Lecture by Joanna Solecka (Alphapanda)
The Digital Campaigns and Audience Engagement for Documentaries
In her lecture Joanna Solecka, film marketing strategist and audience design expert (Poland) from renowned European digital marketing agency Alphapanda, will give exclusive insights into promoting film using digital platforms and point to new approaches and challenges arising from the increasing digitisation. Are documentaries an effective way to communicate serious matters to the public, foster debate and collective action to tackle the pressing issues of our time?
This session explores contemporary documentary filmmaking within the context of a highly connected new media landscape and addresses how filmmakers can benefit from digital tools to expand the dialogue around their films' subjects and raise public awareness.
---
Language:
English
Access:
Accredited guests welcome
 
When & Where
Masterclass by Film Editor Yaël Bitton
Award-winning documentary film editor, writer, story consultant, and director Yaël Bitton ("Demons", "Hijos del Viento", "KIX – Ten Years of Innocence", "Devil's Pie: D'Angelo", "Machines", Sima Editing Award for "Radio Silence", Best Editing at Israel Documentary Forum for "Advocate") will share some of her most inspiring experiences from the editing room, show clips of her latest films and discuss various topics about the art and craft of documentary editing and artistic collaborations within the context of international co-productions. She will focus on the importance of constructing and deconstructing narrative and how to approach structure, temporality and the breath of a film.
---
Language: 
English
Access:
Accredited guests welcome
When & Where
Masterclass by Nikolaus Geyrhalter
Masterclass of one of world cinema's most renowned and celebrated documentary filmmakers, Nikolaus Geyrhalter, famous for his unmistakable style, compositions, and framed wide shots in films like "Pripyat, "Homo Sapiens", "Our Daily Bread", "Matter out of Place" (DOK Leipzig 2022) and most recently "Stillstand" selected for International Competition at DOK Leipzig 2023.
---
Access: 
Accredited guests welcome
When & Where
Ex Oriente Film is realised with the support of Creative Europe MEDIA Programme of the European Union.
Funded by the European Union. Views and opinions expressed are however those of the author(s) only and do not necessarily reflect those of the European Union or the MEDIA sub-programme of Creative Europe. Neither the European Union nor the granting authority can be held responsible for them.