Accessibility
default
Our aim is to enable people with very different living situations and conditions to be able to watch and discuss films together. That is why we are working to make DOK Leipzig as barrier-free as possible.
This page gives you an overview of the accessibility of our venues and the parts of the programme that are accessible. We are aware that parts of the festival are not fully accessible and that we are not yet able to address every need for accessibility. We invite you to come along with us on this journey and look forward to seeing you at the festival!
Contact:
Paula Schumann
Phone: +49 (0)341 30864 1024
Email: inklusion [at] dok-leipzig [dot] de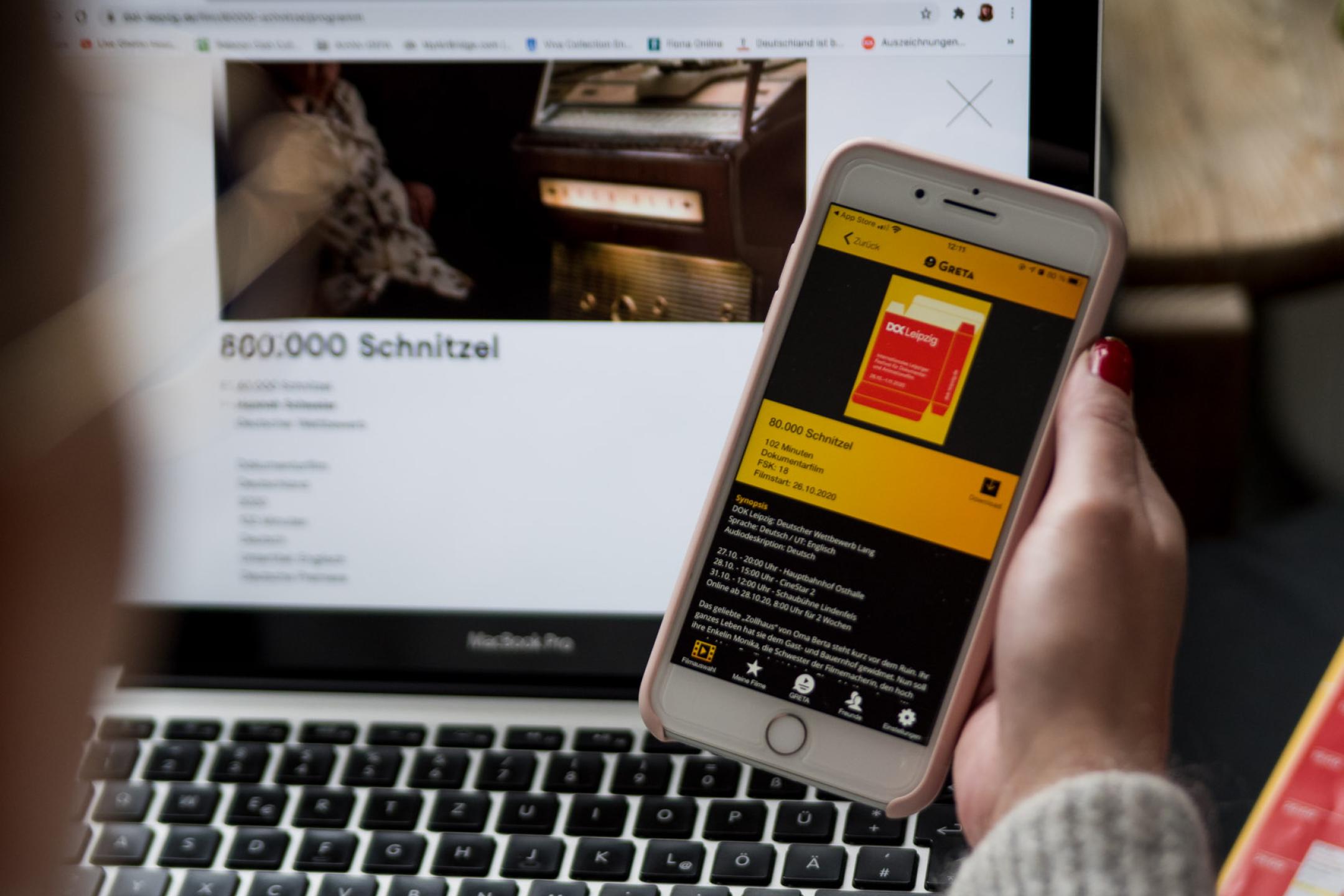 Venues
Many of our cinemas have wheelchair access. This does not apply to Schaubühne Lindenfels and Schauburg Leipzig – both venues are not wheelchair accessible. Regina Palast and Kinobar Prager Frühling offer limited accessibility. You would need the assistance of an accompanying person.
We'll add detailed information on all barrier-free cinemas on 21 September.
Tickets
Persons with any degree of disability are eligible for reduced-price tickets without having to present a disabled pass.
Reduced-price Tickets
Singe ticket: 8 € 
DOK Leipzig Season ticket: 45 €
Wheelchair Seating
Wheelchair seating can be booked at our ticket offices. To ensure that persons accompanying wheelchair users are admitted free of charge, a category "B" disabled pass must be presented at the entrance. Please contact our ticketing team by email at tickets [at] dok-leipzig [dot] de prior to coming. We will be happy to make a reservation including a free ticket for the person accompanying you.
If you have any further questions, please feel free to contact us at this email address.
Getting to the Festival within Leipzig
OpenStreetMap
This open-source map includes information on the accessibility of individual locations and stops. As the map is maintained by volunteer users, the information may not always be complete.
Wheelmap 
Most of our venues and event locations are rated at wheelmap.org, a map for searching for and finding wheelchair-accessible locations. Wheelmap can be accessed via your Internet browser and is also available as a smartphone app.
LVB network map
LVB (Leipzig's public transport) provides a map showing all connections and stops within Leipzig. It can be downloaded as a PDF.
Accessible Films
Certain selected films in our programme are screened with audio description and/or extended subtitles – both of which are in German. In addition, selected film talks at the festival will be interpreted into German Sign Language. We are currently unable to offer an accessible programme of films in English.
Why aren't all the films accessible?
Some of the films at DOK Leipzig have never before been screened in cinemas. Many are completed only a short time before the festival begins and have their premieres here. Others are retrieved from the archives and are decades old, so that accessible versions of most of them do not yet exist. The German audio descriptions and SDH versions found in our programme of accessible films are ones we have created specifically for the festival.
Audio Descriptions
For several films in our programme we offer Audio Descriptions in German via the app Greta. The app is available free of charge for both iOS and Android, and it is useful to install it before the screening already. You can find our films in the app under "Preview – Events". 
Find the films with German audio descriptions on the German-speaking page.
German Subtitles and Subtitles for the Deaf or Hard-of-Hearing (SDH)
Most films at DOK Leipzig are shown in their original version with English subtitles. For a selection of films we also provide German subtitles and subtitles for the deaf or hard-of-hearing on screen. Please note that SDH subtitles will be provided in German and enable viewers who do not understand the film's original language or English to access German subtitles. The subtitles will be shown on screen, you don't need an app or device in the cinema.
Find the films with German SDH subtitles on the German-speaking page.
Attendant Service
In collaboration with the Diakonie Leipzig, we are offering an attendant service for blind, visually impaired and wheelchair-bound festivalgoers in Leipzig this year. If you need assistance, please contact Susann Handke at the Diakonie by email or telephone: 
Email: susann [dot] hanske [at] diakonie-leipzig [dot] detarget="_blank"
Phone: +49 341 56121290
Please inform the Diakonie of your wish to have an attendant at least two working days before the event. The attendant service can pick you up at home or meet you at a bus stop on the way to the cinema.
Photosensivity Advisories
A few films in the 2023 programme contain flashes of light that may trigger seizures in people with visual sensitivities. We indicate this with an icon (in form of a flash) that you can find below the text on the respective film pages and in the calendar. 
The films with photosensitivity warnings are:
30 Kilometres per Second
The Apocalyptic Is the Mother of All Christian Theology
The Box
Feet in Water, Head on Fire
Heaven and Home
Weeding
The Last Relic
The Mother of All Lies
Ouverture
Universe Department Store
Valerija
Vika!
Who, If Not Us? The Fight for Democracy in Belarus 
Awareness Team
Our awareness team is here to support people who have experienced discrimination or transgressions. The awareness team is available during the festival week:
At the festival centre: 8/10–14/10, 16:00–18:00
Phone: +49 176 1562 6320 (8–14/10, 14:00–midnight)
Email: 

awareness

[at] dok-leipzig

[dot]

de
Quiet Room
Festivalvisitors with disabilities who need a short-term quiet space, please contact our awareness team (see above).
The barrier-free offer is supported by the Saxon State Ministry of Science and Art. This measure is co-financed with tax revenues on the basis of the budget approved by the members of the Saxon State Parliament.