DOK Co-Pro Market
default
35 projects from 36 countries have been selected to participate in the 2021 DOK Co-Pro Market. Congratulations to the teams! On 25, 26 and 28 October they are meeting potential co-production, financing and distribution partners face to face in Leipzig and online.

In its first ever hybrid edition, the 17th DOK Co-Pro Market features 35 projects from 36 countries and we are excited to welcome each team in Leipzig and virtually. Over two and a half days, the project holders will meet with potential co-producers, co-financiers, broadcasters, distributors and sales representatives in over 850 individual meetings.
Partner delegations are invited to participate in the Co-Pro Market Open Programme, taking place entirely online. The programme consists of informal networking and discussions led by international experts who share their knowledge on the international market and co-production opportunities.
The DOK Co-Pro Market strives to expand networks, create fruitful opportunities to finance new creative documentaries  and to gaze into the documentary crystal ball to see future paths towards sustainability and equality.
We are looking forward to awarding the Saxon Award for the Best Documentary Project by a Female Director at the Opening Ceremony of DOK Leipzig. We are very happy about our continued partnership with Current Time TV, who are awarding a project from Central or Eastern Europe with the Current Time TV Award, endowed with 1,500€. And we are proud of the new award by our partner EWA – the European Women's Audiovisual Network, which highlights a project with a historically marginalised and underrepresented POV, deferring stereotypes, and directed by a woman.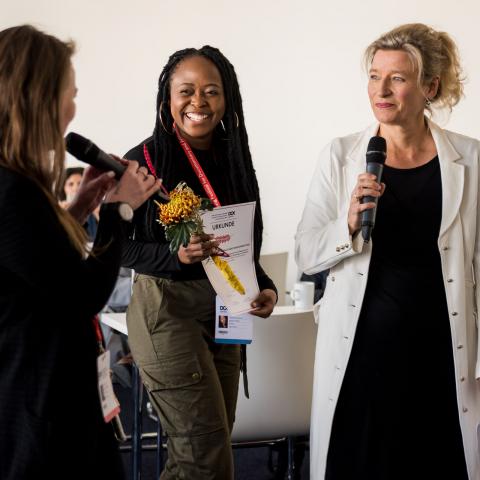 © Susann Jehnichen
Awards in the DOK Co-Pro Market 2021
Saxon Award for the Best Documentary Project by a Female Director
Along with 5,000 €
Current Time TV Award
Along with 1,500 €
The EWA Diverse Voices Award
Along with 1,000 € and a year-long mentorship by DOK Leipzig 
DOK Co-Pro Market Coordinator
Ulrike Schmidt
u [dot] schmidt [at] dok-leipzig [dot] de
+49 (0)341 30864-1081