DOK Co-Pro Market
default
The DOK Co-Pro Market is a co-financing and networking event, connecting producers with colleagues to finance new creative documentary projects and granting exclusive access to the multifaceted German and international non-fiction markets.
About
The DOK Co-Pro Market features 35 international documentary and animated documentary projects in development and matches project holders with new partners for co-production, financing and distribution. The DOK Co-Pro Market expands networks, creates fruitful opportunities for new creative documentaries to enable the subsequent stages of production through discovering possible partnerships.
Over two days, DOK Industry organizes 850+ curated one-on-one meetings and plenty of informal networking opportunities in a friendly and welcoming setting. 
Partner delegations are invited to participate in the Co-Pro Market Open Programme that takes place alongside the main market activities. The programme comprises informal networking events and discussions led by international experts who share their practical knowledge on the international market and co-production.
The Call for Projects is now open, the deadline for submissions is 29 June 2023.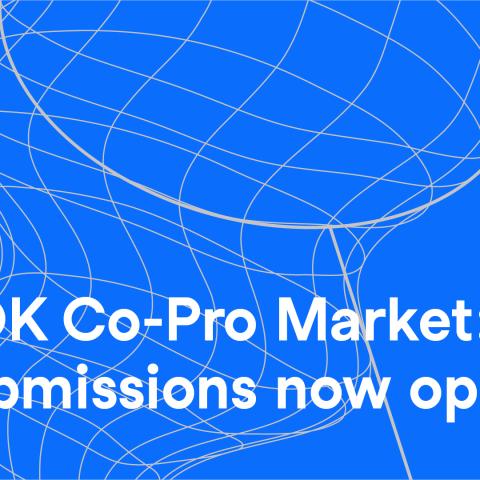 Submit your projects now!
The 19th DOK Co-Pro Market is now open for submissions. 
We are looking for your creative, author-driven documentaries. Feature-length documentaries suitable for theatrical release, one-offs and series are all encouraged to submit.
We only accept projects that are in development or early stages of production. Projects in post-production are not eligible.
We are a market for projects that are interested in working with other producers early on to build co-productions. Please don't apply if you are looking for finishing funds.
Projects from all over the world are welcome to apply.
The deadline for submissions is 29 June 2023.
Please find all relevant information on participating with a project and how to submit in the Co-Pro Market Submission Guidelines. For any further questions, please check our FAQ.
We are looking forward to seeing which projects you are bringing forth this year!
DOK Co-Pro Market Coordinator
Guevara Namer
namer [at] dok-leipzig [dot] de
+49 (0)341 30864-1081
Awards
Awards presented at the past 2022 edition were: 
Saxon Award for the Best Documentary Project by a Female Director 
along with 5,000 €
donated by the Saxon State Ministry for Science, Culture and Tourism
"A Bit of a Stranger"
Svitlana Lishchynska
(Ukraine)
 
Current Time TV Award for a project from Central or Eastern Europe
along with 1,500 €
donated by Current Time TV
"Blum"
by Jasmila Žbanić
(Bosnia & Herzegovina, Croatia, Germany)
The EWA Diverse Voices Award
along with 1,000 € donated by the European Women's Audiovisual Network
and a year-long mentorship by DOK Leipzig
"In the Light of Darkness"
(India)
 
Unifrance Doc Award
along with subtitling services sponsored by TitraFilm and a Unifrance membership for its French producer
"Under the Dance Floor" 
Sará Timár
(Hungary, France)
Funded by the European Union. Views and opinions expressed are however those of the author(s) only and do not necessarily reflect those of the European Union or the MEDIA sub-programme of Creative Europe. Neither the European Union nor the granting authority can be held responsible for them.