DOK Co-Pro Market
default
35 projects from 36 countries have been selected to participate in the 2021 DOK Co-Pro Market. Congratulations to the team! From 25 to 29 October they will meet potential co-production, financing and distribution partners.

While the past year has brought a major disruption to our industry's ways to meet and connect, we are looking confidently into the future and are positive to be able to meet in person soon again. The DOK Co-Pro Market 2021 is planned as a hybrid event with individual meetings and networking opportunities taking place in Leipzig as well as online.
35 projects in development or early stages of production will get together from 25 to 29 October 2021 to meet with potential co-producers, co-financiers, broadcasters, funds, distributors and sales representatives in over 850 individual meetings. The goal is to expand networks, create fruitful opportunities to finance new creative documentaries and face together the radical challenges that have presented themselves this past year.
Participate as Producer without a Project
A major focus of the DOK Co-Pro Market is to help create a network of unique professionals dedicated to the co-production of creative documentary works. Since the Co-Pro Market's founding 17 years ago, producers have always had special priority in our programming, and the hybrid edition gives us a unique opportunity to open our doors to more producers than ever before.
We invite producers who are actively looking for new audio-visual works to co-produce and to expand their networks internationally to apply as a Producer without a Project for participation in the Co-Pro Market. The deadline is 27 September.
Producers should have relevant co-production experience in recent years and aim to find new high-quality, international projects to co-produce. Capacities are limited and the decision will be depending on the composition of the final project selection of the Co-Pro Market. The selected projects in development or early production are seeking creative as well as financing partners, with expertise in documentary or animated documentary production.
The Co-Pro Market individual meetings between producers and the selected projects take place on 25, 26 and 28 October 2021 in a hybrid meeting format – onsite in Leipzig and online. Participation as Producer without a Project is possible onsite in Leipzig (including some online meetings) or entirely online.
What does a participation as a Producer without a Project include?
prescheduled Individual Meetings with project teams
access to the Co-Pro Market Open Programme (online networking, talks and discussion formats with other Co-Pro Market participants including Decision Makers)
additionally, Co-Pro Market Onsite Access gives you the opportunity to meet projects at our Co-Pro Market venue in Leipzig and join the Co-Pro Market networking lunches
How much does the Participation Fee cost?
Producer without a Project Onsite participation: 220€ = 140€ for the Accreditation Festival/Industry – Onsite & Online + 80€ for Co-Pro Market onsite participation fee (incl. VAT)
Producer without a Project Online participation: 150€ = 100€ for the Accreditation Festival/Industry – Online + 50€ for Co-Pro Market online access (incl. VAT)
How can I apply as a Producer without a Project?
The application deadline for Producers without a Project is 27 September 2021.
To apply, please fill in the Application Form and send it by email to the Coordinator of the Co-Pro Market Ulrike Schmidt: u [dot] schmidt [at] dok-leipzig [dot] de. 
We will get back in regards to your application in early October.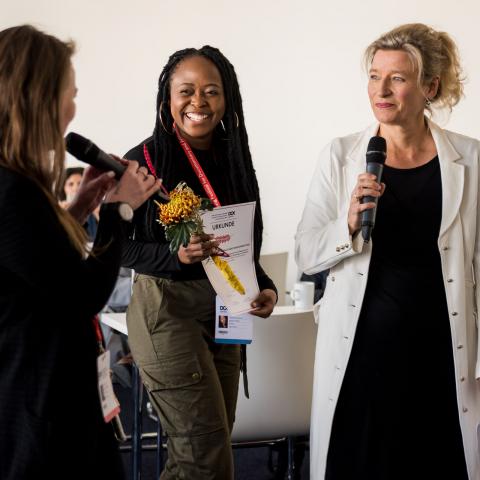 © Susann Jehnichen
Awards in the DOK Co-Pro Market 2021
Saxon Award for the Best Documentary Project by a Female Director
Along with 5,000 €
Current Time TV Award
Along with 1,500 €
The EWA Diverse Voices Award
Along with 1,000 € and a year-long mentorship by DOK Leipzig 
DOK Co-Pro Market Coordinator
Ulrike Schmidt
u [dot] schmidt [at] dok-leipzig [dot] de
+49 (0)341 30864-1081