Press Area
default
Welcome to the press area of DOK Leipzig! The press department supports journalists in reporting on the festival.
All year round we inform interested journalists about the latest news at DOK Leipzig. On this page you will find our press releases and information about press materials.
Press Mailing List
Please contact us and we will add you to our press mailing list:
Photos and Logos
Visit our press download area if you need photos of the festival or our logo.
Press Office
Nina Kühne
presse [at] dok-leipzig [dot] de
+49 (0)341 30864-1070
Press Releases 2022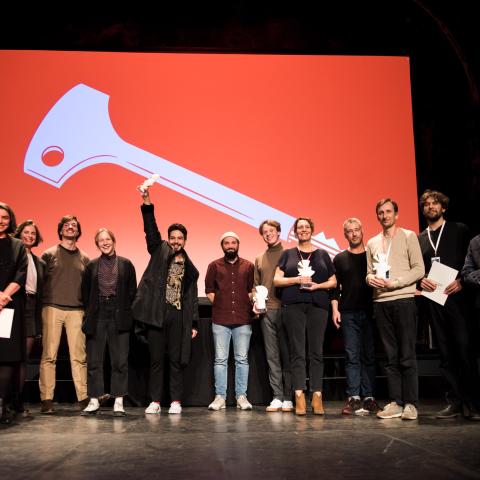 Susann Jehnichen
DOK Leipzig looks back on a successful edition of the festival this year, with a total of 41,523 attendances having been registered. Particularly satisfying was the interest shown in the events on site. 30,596 attendees were counted at the cinema screenings, talks and industry events as well as at the DOK Neuland exhibition. From 17 to 23 October, audiences at the Leipzig venues were shown 255 films and extended reality (XR) experiences from 55 countries. Following the week of the festival, eleven award-winning films from the programme were available online throughout Germany in the DOK Stream for one week.
The six programmes in the Retrospective "The Female Documentarists of the GDR" as well as the two Matinees on related themes were very well received. The two Master Classes by Mila Turajlić and Špela Čadež also met with enthusiasm. The free screenings at the Leipzig main station were again in high demand, as was the DOK Neuland exhibition of immersive XR experiences.
"After two years of operating under pandemic-related restrictions, this edition of the festival was a very important one for the filmmakers as well as for us," concludes festival director Christoph Terhechte. "We're very pleased to have received such exuberant feedback from our audience and from the industry representatives, which demonstrates to us just how important face-to-face interaction is for the film industry and for cinemas. It's particularly gratifying that we were able to reach a very young audience and get lots of people to return to the cinemas."
The festival's online offerings, including the programme of films in DOK Stream, were accessed 10,927 times by the audience in Germany and by international representatives of the industry.
Following a hybrid version in 2021, the DOK Industry platform returned to a focus on in-person participation this year. Live streams, recordings and podcasts also provided various online access to the programme. The industry events met with great interest. The newly established DOK Archive Market including the keynotes, case studies and individual consultations with experts on film archives, were particularly popular. The short film pitch DOK Short n' Sweet and the programme focusing on the animated film industry were also attended by numerous accredited professionals.
During the week-long festival, 1,471 international industry representatives met in Leipzig, with a further 210 accredited participants attending remotely. On two days after the end of the festival, accredited professionals had a further opportunity to network online. In total, DOK Industry recorded around 8,425 attendances this year.
24 prizes were awarded during the week of the festival, including the nine Golden and Silver Doves. The festival's main award, the Golden Dove in the International Competition, worth 10,000 euros, was awarded to Theo Montoya for his documentary film "Anhell69".
Overview of all award winners: Awards & Juries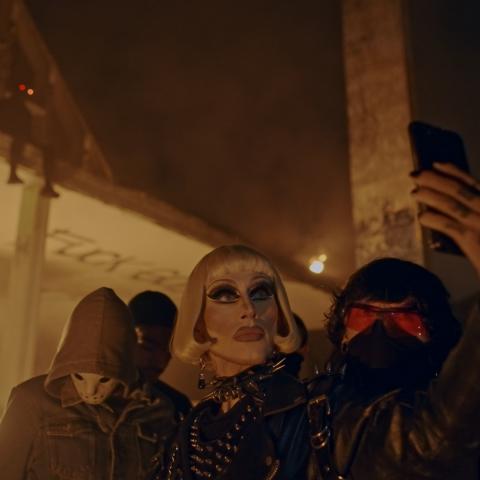 The awards of the 65th edition of DOK Leipzig were presented on Saturday at the Schaubühne Lindenfels in Leipzig. Following the week-long festival, a selection of the award-winning films will be shown online throughout Germany in the DOK Stream from 24 to 30 October.
The Golden Dove in the International Competition went to Theo Montoya for "Anhell69". This co-production from Colombia, Romania, France and Germany portrays a queer young generation in a Colombia marked by violence and repression, in a very real ghost story told in atmospheric images. "A cinematic slipstream of consciousness fuelled by human nature's pleasure and death drives" is what the jury called it, adding: "An ode to an ill-fated city and a tribute to one's community, it harnesses the power of resilience and transgression to inhabit the world with fluidity, fearlessness and radical urgency." The award-winning long films in the International Competition were chosen by Philippa Kowarsky, Lemohang Jeremiah Mosese, Shireen Seno, Ula Stöckl and Andrei Tănăsescu. The 10,000-euro Golden Dove is sponsored by Mitteldeutscher Rundfunk. The award was presented by Jana Brandt, Director of the MDR Programme Directorate Halle.
The Silver Dove for best long documentary or animated film by an up-and-coming director in the International Competition was awarded to Faustine Cros for the Belgian-French production "A Life Like Any Other", a portrait of a woman at odds with her role as a mother and the demands of motherhood. "In seeking to understand a family's pain, this film gives voice to the primal scream of women, wives, and mothers everywhere," the jury stated. The 6,000-euro award was sponsored by 3sat. Johannes Dicke, Head of Programming at 3sat, presented the award to the filmmaker.
In the International Competition Short Film, Diana Cam Van Nguyen, Rocco Di Mento and Tina Smrekar chose the recipients of the Golden Doves, each worth 3,000 euros, and the newly created Silver Dove, worth 1,500 euros. "Will You Look at Me" by Shuli Huang was honoured as best documentary film. This film shows how the queer filmmaker's lifestyle collides with the expectations held by his mother and by Chinese society. The award for best animated film went to Marta Magnuska for "Misaligned", which depicts scenes of a marriage as a minimalist, vibrating black-and-white animation.
The Silver Dove for the best short documentary or animated film by an up-and-coming director, sponsored by the Sächsische Landesanstalt für privaten Rundfunk und neue Medien (Saxon State Institute for Private Broadcasting and New Media, SLM), was awarded to the South Korean animated film "Persona" by Sujin Moon about beauty ideals and the compulsion to fit in. The President of the Medienrat SLM, Prof. Markus Heinker, delivered welcoming remarks in person at the award ceremony.
The films that have earned Golden Doves in the International Competitions Long and Short Film qualify for nomination for the annual Academy Awards®, provided they meet the Academy's standards. The winners in the International Competitions were chosen by Philippa Kowarsky, Lemohang Jeremiah Mosese, Shireen Seno, Ula Stöckl and Andrei Tănăsescu. Special Mentions from the jury went to Matthias Joulaud and Lucien Roux for their short documentary "Ramboy" and Sasha Kulak for the long documentary "A Hawk as Big as a Horse".
In the German Competition, filmmaker Sönje Storm was awarded the Golden Dove (3,000 euros) for "Dead Birds Flying High". In this documentary, Storm goes through old boxes left behind by her great-grandfather, Jürgen Friedrich Mahrt. This farmer and naturalist documented the local flora and fauna with the aid of photography and taxidermy and thus already observed the extinction of species as well as harbingers of today's climate crisis in the early 20th century. "Image composition, sound design and editing merge into a coherent work of art that reflects both the dramatic changes in nature and the fatal influence of humans on their environment," said the jury members Andreas Kötzing, Sabine Rollberg and Marie Wilke.
The Silver Dove in the German Competition Short Film, which includes prize money of 1,500 euros and is sponsored by IG Metall Leipzig, went to Jonathan Brunner for "Border Conversations", a film that follows Polish activists in the border region between Belarus and Poland in the winter of 2021.
In the Competition for the Audience Award, the Golden Dove including 3,000 euros went to "Three Women" by Maksym Melnyk. In encounters with three independent women, Melnyk documents rural life in the Ukrainian village of Stuzhytsya near the EU border. "This film brings us images of joie de vivre and lightness. Images that we don't often see coming from that country at the moment. It creates connections and unites people through the screen," according to the statement by the audience jury.
The Silver Dove was awarded to Olesya Shchukina for the Russian-French production "Lada, Ivan's Sister". This animated documentary tells of the transition of a woman who was born a biological male. The award, which includes 1,500 euros, was sponsored by the Leipziger Gesellschaft zur Förderung der Filmkunst e.V. At the award ceremony, the association was represented by Christiane Wilhelm, who delivered remarks to the audience.
This year's audience jury was comprised of film enthusiasts and friends of the festival David Chazarenc, Margherita Gallano, Erik Laube, Paula Mecklenburg, Annegret Meder and Barbara Tennstedt.
Partnership Awards for documentary and animated films in competition
Earlier, on Saturday afternoon, nine Partnership Awards were presented at the Schaubühne Lindenfels.
The DEFA Sponsoring Prize, which includes 4,000 euros granted by the DEFA Foundation, went to Maksym Melnyk for "Three Women".
The 3,000-euro MDR Film Prize for an outstanding eastern European documentary film was awarded to Marek Kozakiewicz for "Silent Love". This film tells the story of a woman who attempts to obtain custody of her brother in a conservative part of Poland and to live with her partner in an alternative family arrangement.
The Film Prize Leipziger Ring honours a documentary film about human rights, democracy or civil engagement, is granted by Stiftung Friedliche Revolution (Foundation of the Peaceful Revolution) and comes with 2,500 euros in prize money. This year's award went to "Pastor Lothar Stops", Tilman König's documentary about his father, the former Jena pastor and left-wing activist Lothar König.
"Pastor Lothar Stops" also received the ver.di Prize for Solidarity, Humanity and Fairness, which includes 1,500 euros in prize money.
The 2,000-euro Young Eyes Film Award, granted by Leipziger Stadtbau AG, went to "Blue Sky White Clouds" by Astrid Menzel. In this film, the director takes her grandmother, who suffers from dementia, on a canoe trip in northern Germany. The prize was awarded by the Youth Jury in cooperation with Filmschule Leipzig e.V.
The 1,750-euro Prize of the Interreligious Jury was awarded to "A Life Like Any Other" by Faustine Cros. The award is granted by the Interreligiöser Runder Tisch Leipzig, the Oratorium zu Leipzig and VCH-Hotels Deutschland GmbH – im Verband Christlicher Hoteliers e.V., including Hotel MICHAELIS Leipzig.
The Prize of the International Film Critics (FIPRESCI Prize) was awarded to "One Mother" by Mickaël Bandela, an autobiographical and visually ingenious study of growing up in a foster family. 
The mephisto 97.6 Award went to "Sliver Cave" by Caibei Cai. In this short film, bizarre animations on a metal plate are set to free jazz.
The Gedanken-Aufschluss award went to "Yonii" by Julius Gintaras Blum, a portrait of a Swabian-Moroccan actor and rapper. The prize is awarded by a jury of prisoners at the Juvenile Detention Centre Regis-Breitingen.
Awards presented at DOK Industry
Six awards have already been presented during the week of the festival as part of the industry platform DOK Industry.
Awarded in the DOK Co-Pro Market:
Saxon Award for the Best Documentary Project by a Female Director (along with 5,000 euros): "A Bit of a Stranger" by Svitlana Lishchynska (Ukraine)
The prize is donated by the Saxon State Ministry for Science, Culture and Tourism.
Current Time TV Award (along with 1,500 euros): "Blum" by Jasmila Žbanić (Bosnia & Herzegovina, Croatia, Germany)
The prize is donated by Current Time TV.
The EWA Diverse Voices Award (along with 1,000 euros, a year-long mentorship by DOK Leipzig and an EWA membership): "In the Light of Darkness" (India)
The prize is donated by EWA – European Women's Audiovisual Network
The Unifrance Doc Award (along with subtitling services sponsored by TitraFilm and a Unifrance membership for its French producer): "Under the Dance Floor" by Sára Timár (Hungary, France)
Awarded at DOK Preview Germany:
D-Facto Motion Works-in-Progress Prize (post-production grant of 10,000 euros): "300 Trillion" by Rudolph Herzog (Germany)
The prize is donated by D-Facto Motion GmbH.
Awarded at DOK Short n' Sweet:
Square Eyes Festival Consultation Award (along with a tailor-made consultation on festival strategy by Square Eyes): "The Art of Detaching One's Memory" by Jan Carlo Natividad (Philippines)
The prize is donated by Square Eyes.
A total of 24 prizes were awarded at DOK Leipzig. During the festival week, 255 films and extended reality works from 55 countries were screened in the Leipzig venues.
After the festival ends, eleven award-winning films can still be seen online throughout Germany in DOK Stream from 24 October to 30 October 2022, including six recipients of Golden and Silver Doves. The films in DOK Stream are "Dead Birds Flying High", "A Hawk as Big as a Horse", "One Mother", "Three Women", "Silent Love", "Misaligned", "Sliver Cave", "Border Conversations", "Lada, Ivan's Sister", "Will You Look at Me" and "Yonii". Online ticket sales will start at 10 am on Monday, 24 October. The ticket price per long film or short film reel is 5 euros.
The award-winning film in the International Competition, "Anhell69", will be released in cinemas across Germany in 2023.
 
Please find details about the award-winning films here: Programme & Tickets
Information about all of DOK Leipzig's juries can be found here: Awards & Juries
All of the jury statements and awards, including special mentions, can be found in the attachment.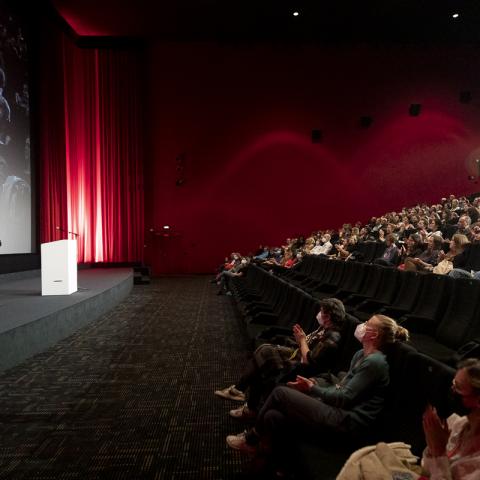 Viktoria Conzelmann
DOK Leipzig opened on Monday, 17 October, at the CineStar with the German premiere of the long animated film "No Dogs or Italians Allowed" by Alain Ughetto.
For Christoph Terhechte, this marks the beginning of his third festival edition as director of DOK Leipzig. In his welcome speech, he reflected on the role of art in dealing with world political events and referenced the current protests in Iran: "Art has to face reality, and it needs the interaction with its audience. That is what we are there for as a festival. Hence, we regret not having the time to react with our programme planning to the protests in Iran. Nevertheless, we wish to express our solidarity with the courageous women in Iran and all those who finally have the prospect of shaking off decades of oppression and asserting elementary human rights. DOK Leipzig, too, stands for these values."
Saxon State Minister for Culture and Tourism Barbara Klepsch also spoke at the festival opening. She emphasised the importance of the festival as an in-person event: "I am very pleased that DOK Leipzig will be able to welcome guests and international filmmakers to Leipzig again this year in the usual way. Especially after the two difficult years for culture due to the Corona pandemic, it's even more meaningful that direct encounters and exchanges are possible again on site."
Barbara Klepsch then presented the Saxon Award for the Best Documentary Project by a Female Director, worth 5,000 euros, to Ukrainian filmmaker Svitlana Lishchynska for her project "A Bit Of A Stranger". It tells the story of Svitlana's mother, daughter and granddaughter — three generations of a family from Mariupol who have lost their national identity due to the long-term imperial policy of Moscow and are currently facing the Russian war of aggression.
The jurors Sarah Anderson (Chicken & Egg Pictures), Vesna Cudic (Sky Studios) and Babette Dieu (European Film Market) were impressed by Lishchynska's "courage in filming and sharing the experience of her family in this way". In their laudatory speech, they underlined: "We believe that the project has a great potential to engender empathy for the protagonists and the people involved, to heal and to facilitate a debate on universal issues."
Projects by female directors selected for the DOK Co-Pro Market were eligible for the award, which was donated by the Saxon State Minister for Culture and Tourism. "I am very pleased that we are once again supporting the development of film projects from a female perspective with this prize," Barbara Klepsch said.
Greeting the crowd via video message, Leipzig Mayor Burkhard Jung congratulated the festival on its 65th edition and added: "Many interesting insights, discussions and clear political commitments — that's what I wish for to achieve open diversity and ultimately also peace in this world, which the DOK festival dove also represents." As focal points of this year's festival edition, Jung highlighted the initiative to support Ukrainian filmmakers and the new "Panorama" section with films from Central and Eastern Europe.
Afterwards, the short film "Anscht" by Matthias Huber was shown, followed by the introduction of the selection committee and juries for DOK Leipzig 2022.
The opening event concluded with the screening of the long animated film "No Dogs or Italians Allowed", introduced by a conversation between Christoph Terhechte and the film's director Alain Ughetto. In the stop-motion film, French director and screenwriter Alain Ughetto traces the lives of his grandparents from Northern Italy to their migration to France in the first half of the 20th century.
Parallel to the opening event at the CineStar, "No Dogs or Italians Allowed" was screened in the Leipzig Central Station, where it was also introduced by the filmmaker and festival director.
DOK Leipzig will present a total of 255 films and XR experiences from 55 countries in 11 different venues through Sunday, 23 October. Included among the venues for the first time is the cinema Kinobar Prager Frühling in southern Leipzig. Once again this year, some of the films will be presented by DOK Leipzig with free admission in the Osthalle at the Central Station and the Polish Institute.
The Golden and Silver Doves will be awarded on Saturday evening. Prior to that, numerous partner awards will be presented at a separate ceremony in the afternoon.
Following the festival week, ten award-winning films will be shown online via DOK Stream throughout Germany from 24 to 30 October. The film selection will be published on the festival Sunday.
Further information on the festival programme can be found here: Programme & Tickets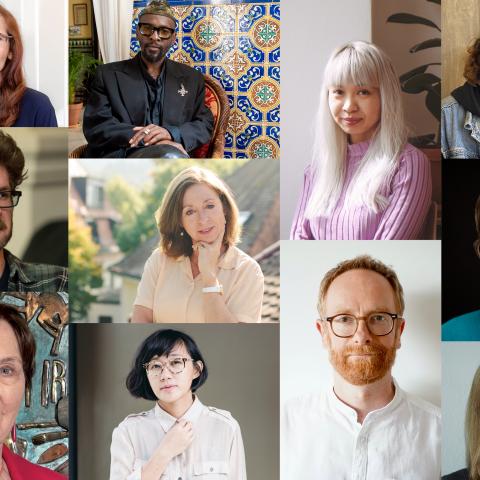 Three juries, each comprised of distinguished professionals from the world of film and the arts, along with an audience jury, will be in charge of awarding prizes in the competitions for short and long animated films and documentaries at the 65th edition of DOK Leipzig. The 2022 jury for the International Competition Long Documentary and Animated Film is comprised of Philippa Kowarsky, Lemohang Jeremiah Mosese, Shireen Seno, Ula Stöckl and Andrei Tănăsescu. These five jury members will choose from among 13 nominated documentary works to award one film with a Golden Dove and one film with a Silver Dove.
These jury members represent diverse perspectives on contemporary international documentary filmmaking. Film and television producer Philippa Kowarsky, who founded Cinephil Ltd. in Tel Aviv, has overseen numerous Israeli and international documentaries, including the Oscar-nominated film "The Gatekeepers" from 2013. The self-taught video and film artist Lemohang Jeremiah Mosese, who hails from Lesotho, has presented such works as "Mother, I Am Suffocating. This Is My Last Film About You" (2019) at the Berlinale Forum and the Museum of Modern Art in New York.
The video and film artist Shireen Seno, born in Japan, runs the film workshop Los Otros in Manila with John Torres. She presented her short film "To Pick a Flower" at DOK Leipzig in 2021 and will soon be residing in the German capital as a film fellow on the DAAD Artists-in-Berlin Program. Director Ula Stöckl created feminist classics of German film history, including "The Cat Has Nine Lives" (1968), spent twenty years on the selection committee at the Berlinale and gives lectures as a professor of Film Studies at the University of Central Florida in Orlando in the United States. The Romanian-Canadian curator and film scholar Andrei Tănăsescu presented a visual history of the Romanian nation in 2019 in a film series titled "Videograms of a Nation"; he is involved in film festivals in Venice, Basel and Bucharest.
The jury for the International Competition Short Documentary and Animated Film will review 24 nominated works and award two Golden Doves, each for the best film in the two genres, as well as a Silver Dove for the best film by an up-and-coming director. The jury consists of Czech-Vietnamese director Diana Cam Van Nguyen (Silver Dove for "Love, Dad", DOK Leipzig 2021), documentary filmmaker and film editor Rocco Di Mento and Slovenian producer and professor Tina Smrekar, who is responsible for such works as "Boles" (Golden Dove, DOK Leipzig 2013) by animation artist Špela Čadež (guest speaker at a master class in 2022).
The jury for the German Competition awards a Golden Dove for a feature-length documentary and a Silver Dove for a short animation or documentary film. Andreas Kötzing, Sabine Rollberg and Marie Wilke are judging the nine long and nine short film productions from Germany.
Andreas Kötzing is a researcher at the Hannah Arendt Institute in Dresden and a lecturer at the University of Leipzig on the history of German culture, media and film censorship as well as on the culture of remembrance after 1989/1990. Sabine Rollberg, who holds a doctorate in Literature and was awarded the Grimme-Preis and Federal Film Award, worked in public television (WDR, ARTE, ARD) for over forty years and has been teaching journalism and documentary film at the Albert-Ludwigs-Universität in Freiburg since entering retirement. Writer-director Marie Wilke presented her second feature-length documentary, "Aggregate", at the Berlinale Forum in 2018, taught directing at the Film University Babelsberg KONRAD WOLF and was artistic director of the German Film and Television Academy Berlin in 2021/2022.
Film buffs and long-time festivalgoers once again have the opportunity to be on the jury for the Competitions for the Audience Award. David Chazarenc, Margherita Gallano, Erik Laube, Paula Mecklenburg, Annegret Meder, Christian Pauli and Barbara Tennstedt are representing the DOK Leipzig audience as jury members this year. They will award a Golden Dove to a long film and a Silver Dove to a short animation or documentary film. Nine long and ten short works have been nominated in these two competitions.
The Golden and Silver Doves will be presented to the winning films on the Saturday of the festival, 22 October 2022, at 7 pm at the Schaubühne Lindenfels in Leipzig's West End.
 
Overview of all jury members at DOK Leipzig 2022: Awards & Jurys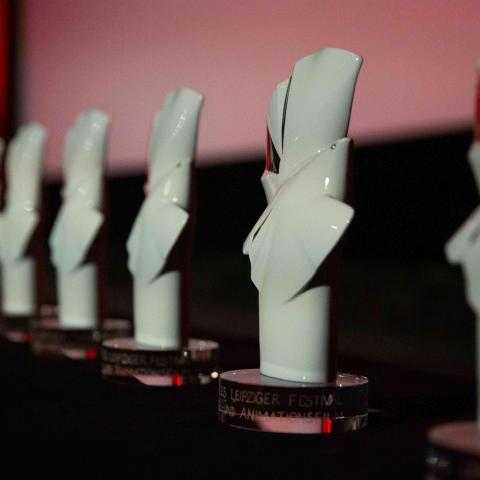 Hyejeong Yoo
DOK Leipzig's International Competition Short Film will for the first time award a Silver Dove to the best documentary or animated film by an up-and-coming director. Eligible for the award are all of the short films in the competition that are the first, second or third film made by a director after graduating. This 1,500-euro award is being sponsored by the Saxon State Institute for Private Broadcasting and New Media (SLM), which for years has been supporting young filmmakers and funding events that promote critical thinking and media literacy among viewers of all ages.
IG Metall Leipzig is also stepping up as an award sponsor at Leipzig for the first time and is sponsoring the 1,500-euro Silver Dove in the German Competition Short Film.
Mitteldeutscher Rundfunk has been an award sponsor at DOK Leipzig for many years. Since 2013 it has sponsored the 10,000-euro Golden Dove for the International Competition Long Documentary and Animated Film. MDR is also the festival's exclusive media partner for radio and television.
This year, 3sat will again be sponsoring the Silver Dove in conjunction with 6,000 euros for the best entry by an up-and-coming director in the International Competition Long Film. 3sat has been showing documentary auteur films and supporting their production since 1993. By sponsoring this award for young directors at DOK Leipzig, 3sat is reaffirming its commitment to talented international directors.
The award sponsors once again include the Friends of DOK Leipzig. The Leipziger Gesellschaft zur Förderung der Filmkunst e. V. is sponsoring the Silver Dove, worth 1,500 euros, for the Competition for the Audience Award Short Documentary and Animated Film.
Numerous awards of various partnering organisations will be presented on the Saturday of the festival. Altogether, 24 awards will be presented at DOK Leipzig. "We'd like to thank our partners and sponsors from the bottom of our hearts for renewing their generous support for our festival this year," says festival director Christoph Terhechte.
Six of the awards will be presented at DOK Industry to promote film projects. For the first time, Unifrance will present an award to a French production or co-production at the DOK Co-Pro Market. The EWA Diverse Voices Award will honour a project by a female director which tells a story from the point of view thus far marginalized and underrepresented in film. The Saxon Award for the Best Documentary Project by a Female Director and the Current Time TV Award for a project from central or eastern Europe also honour projects at the DOK Co-Pro Market. One of the projects presented at DOK Short n' Sweet will be honoured with the Square Eyes Festival Consultation Award. The DFM Works-in-Progress Award, sponsored by D-Facto Motion, will again be awarded during the DOK Preview Germany presentation of rough cuts.
A total of 54,750 euros in prize money will be awarded at DOK Leipzig this year. In addition, there are non-cash benefits worth 10,000 euros that filmmakers will be able to use in developing their films.
The festival further relies on the commitment of a large number of patrons, sponsors and partners who help to make possible everything that is offered here.
DOK Leipzig continues to receive generous funding. The main sponsor is the city of Leipzig, which is also the proprietor of Leipziger Dok-Filmwochen GmbH. The Free State of Saxony has been a major sponsor of DOK Leipzig for many years as well. This year, the festival enjoys the additional support of a project organized by the Free State of Saxony called "Corona – Kultur Erhalt". The Saxon Ministry of Science, Culture and Tourism is once again allocating project funds for programmes of inclusion in order to facilitate the participation of everyone interested in film. This measure is co-financed by tax revenue according to the budget adopted by the Saxon State Parliament. The EU programme Creative Europe Media, the Central German Media Fund and the German government's Commissioner for Culture and Media, who has been supporting the arts since summer 2020 through an emergency and recovery aid package called NEUSTART KULTUR, are also providing crucial support to the festival and its events and activities for the film industry.
The Federal Foreign Office, the Federal Foundation for the Study of the Communist Dictatorship in Eastern Germany and the Cultural Foundation of the Free State of Saxony represent further sources of funding for the festival. The US Consulate Leipzig, the Goethe-Institut, ZDF and the Leipziger Gesellschaft zur Förderung der Filmkunst e. V. have been very generous in their support as well. DOK Leipzig would further like to thank its long-standing partner ARTE as well as Stadtbau AG and German Films.
Other partners support DOK Leipzig through financial and non-cash contributions and are thus instrumental to its success. Big Cinema is again assisting the festival this year in processes of digitalisation and cinema playout and is handling the technical and organisational side of the film screenings at Leipzig Central Station (Osthalle). ECE Marketplaces are also facilitating the free film screenings there. DOK Leipzig enjoys strong visibility around the city thanks to its collaboration with partnering regional printer MaXx Print. The infobox in the market square is made possible by modulbox mo systeme. For years, loyal partners of DOK Leipzig have also included Computer Leipzig and 3sat.
The SLM is once again sponsoring the festival's numerous offerings for young talent. These include the master classes, the DOK Spotters, the school screenings and DOK Neuland. The extended reality exhibition is also being realised through funding from the US Consulate General Leipzig and MDR Media. Zed Up, Logando, VR Cover and Werkleitz are also supporting DOK Neuland.
The festival is also pleased to have numerous collaborative partners on the content level.
DOK Leipzig will be screening 255 films and extended reality works from 55 countries from 17 to 23 October this year. Opening the festival will be the world premiere of "No Dogs or Italians Allowed", a feature-length animated film by Alain Ughetto. The festival centre is located in the Museum der bildenden Künste (MdbK) Leipzig.
An overview of the awards, prize sponsors and juries at DOK Leipzig can be found here: Awards & Jurys
All supporters of the festival are listed here: Partners & Sponsors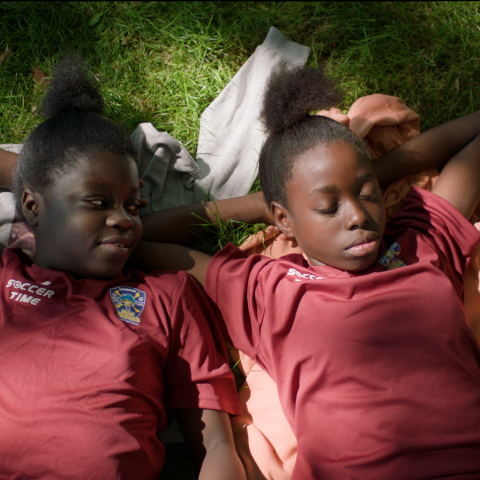 Florinda Ciucio
Films about crocodiles with colds, building blocks that play ball and fans of breakdancing: DOK Leipzig is once again presenting a variety of films for the youngest festivalgoers in its Kids DOK programme. Its four sections, each of which addresses a different age group, consist of animated and documentary films that are imaginative, thoughtful and funny.
The "Films for All 3+" and "Films for All 5+" sections introduce children in preschool and kindergarten to the colourful world of animation. The young audiences will meet singing bears ("Hush Hush Little Bear"), a little creature that turns into a whale and then into a swimmer ("Meta"), and even two children who, as they bicker, blow up like balloons ("Don't Blow It Up").
The "Films for All 7+" and "Films for All 11+" sections present a mix of documentary and animated stories for schoolchildren and adolescents. The protagonists are all children, whom the filmmakers meet at their level. In "Shirampari: Legacies of the River", for example, Ricky, whose family lives deep in the Amazon jungle of Peru, goes on the hunt for a huge catfish in order to overcome fear. "Oasis" is about twins who say goodbye to each other at the end of their holidays because one of them is being transferred to a school for children with disabilities. In "Bgirl Badli", 14-year-old Mali, an enthusiastic breakdancer, is looking forward to attending a dance school. And "Goals" tells of Husna and Charlotte, who dream of becoming professional football players.
The international films selected for Kids DOK are either without dialogue, are subtitled in German or are given a German voiceover. The morning screenings during the week-long festival are particularly suitable for day-care groups. Tickets to individual Kids DOK screenings cost €3.50. All information can be found at dok-leipzig.de.
For many years, DOK Leipzig has also given schoolchildren and teachers the opportunity to familiarise themselves with documentary film as a cinematic genre. DOK Education organises the DOK Spotters youth editorial team, school screenings of selected films from the festival, and the Teachers Day, a film education workshop for teachers.
Under the guidance of media professionals, the DOK Spotters conduct editorial meetings in which they plan newspaper articles, online content, videos and radio segments about the festival. They then publish this content on their blog at dok-spotters.de and in the media of various partners in the project. The participants, aged 14 to 20, learn interviewing techniques, camera skills, video and audio editing and the basics of online publishing. The youth editorial team will be at work from 15 to 22 October. Register at dok-leipzig.de/en/dok-education.
The Teachers Day on 17 October during the week of the festival offers teachers a full-day workshop about the use of documentary film in the classroom. This cooperation between DOK Leipzig and Vision Kino includes attendance of a festival screening of "Pastor Lothar Stops" from the German Competition. Tilman König's critically appreciative portrait of his father, a former city youth pastor from Jena, sheds light on the pastor's stance against the far right and the controversy that ensued.
"We aim to thoroughly analyse this film together and discuss the cinematic techniques it uses to tell its story and achieve an emotional impact," says Luc-Carolin Ziemann, who oversees DOK Education and is conducting the workshop together with Leopold Grün. "This film will appeal to teachers because it vividly depicts what it means to be politically involved and because it showcases an intergenerational debate with a protagonist who was and is an important voice in East Germany."
DOK Leipzig will also be hosting a school screening of "Pastor Lothar Stops" in the Passage Kinos Leipzig after the festival, on 29 November 2022. In addition to the screening itself, which will include a moderated discussion of the film, DOK Education is offering a pre- and post-screening module as well as educational materials for the classroom. School classes can still register for this programme.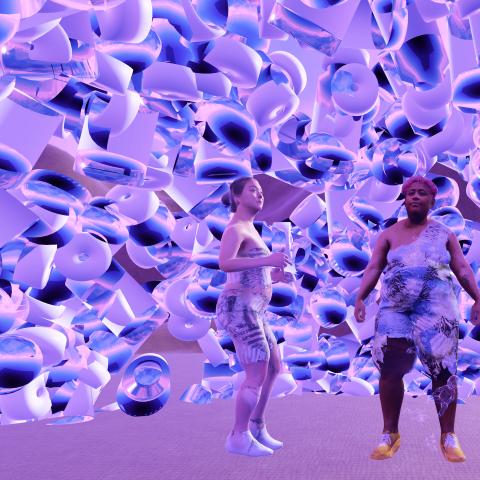 From 18 to 23 October, an immersive space for critique and vision will unfold with DOK Neuland at the Museum der bildenden Künste Leipzig (MdbK). "THX 4 Nothing" will feature six VR experiences, two AR experiences, and a 360° film with themes that expose rigid patterns of thought and behaviour, break down outdated structures, tell stories and map out optimistic future scenarios. 
Present-day challenges — such as climate crisis fallout, human rights violations, corrupt systems, persecution and flight, limiting gender roles and a lack of safe spaces — have gained worldwide attention. Access to knowledge and opportunities for exchange are also at an all-time high. Yet all too often, nothing changes.
This observation forms the foundation of the curatorial concept developed by Lars Rummel and Marie Hinkelmann. The exhibition focuses on both inaction at the political and institutional level, as well as individual responsibility and the limits of personal agency. The work of the featured artists sheds light on different realities of life and asks what condition we want the world to be in when we hand it over to future generations.
"By experiencing with the whole body, XR works move and touch very directly. They turn spectators into participants," say curators Rummel and Hinkelmann, who believe that the works have the potential to make knowledge tangible in a special way.
Three of the XR works share the theme of humans and nature. The AR experience "Seven Grams" disassembles smartphones into their individual parts — with the help of participants' own smartphones. It takes visitors to the Democratic Republic of Congo and reveals which natural and human resources the tech industry needs for its innovations. The VR parable "The Miracle Basket" begins with a past in harmony with the earth contrasted with the carelessness of Western consumer society, which follows the absurd conviction that humans can live independently of nature. Here, blind consumption and destruction meet with hope. In "Kusunda", the Nepalese shaman Lil Bahadur and his granddaughter Hima dedicate themselves to reviving his mother tongue. Beyond simple communication, the work is about identity, tradition and awareness of one's own history. Through interactive voice control, visitors can become a human archive of this indigenous language.
Queerness is at the centre of three other works that report on marginalising and discriminatory spaces of experience. The autotheoretical essay "[Posthuman Wombs]" questions stereotypical notions of pregnancy and speculates on non-binary reproductive scenarios. The AR experience "Dragzina" centres on the queer community in Russia, which faces an increasingly hostile social climate, where it is tabooed and criminalised. It offers a digital safe space for the local drag scene to perform without fear of violence. Finally, the 360° film "In the Mist" turns a group sex scene in a gay sauna into a real-surreal stage for lust and reflection about sex-positive spaces, individual desire and a personal sense of morality.
The exhibition is completed by three works that serve as projection surfaces for fears, insecurities, and the need for control. The VR experience "Control Negative" subjects visitors to a psychological experiment: a voice that does not allow any backtalk triggers an increasing sense of unease, exposing control as an illusion. In "All Unsaved Progress Will Be Lost", text fragments float above a sea of flowers in a deserted city. Before they coalesce to form the story of a woman who refused to leave her home after the Chernobyl nuclear disaster, they open up an associative space of one's own fears. The VR experience "On the Morning You Wake (to the End of the World)" is also based on a real incident: on 13 January 2018, 1.4 million people in Hawaii were warned of a nuclear threat via text message. For 38 minutes, everyday life came to a standstill and panic ensued until it became clear that the message was a false report.
The scenography of the exhibition has again been created in collaboration with the artist Paula Gehrmann. Her modular installation "Display" (THX 4 Nothing, 2022) places the individual works of the group exhibition in relation to each other, creating a holistic sense of space.
During the festival week, "THX 4 Nothing" will be presented in the basement of the MdbK from Tuesday to Sunday (18 to 23 October) with free admission. The exhibition is regularly open from 11 am to 6 pm, and on Wednesday from 12 pm to 8 pm. 
DOK Neuland is part of DOK's young talent programme, created in cooperation with SLM. DOK Leipzig would also like to thank the US Consulate DOK Leipzig, MDR Media, Zed Up, Logando, VR Cover and Werkleitz for their support. As in previous years, the exhibition space has been provided by the MdbK. Many thanks also to all the artists involved in the exhibition and to the XR community in general.
Information on all XR experiences: DOK Neuland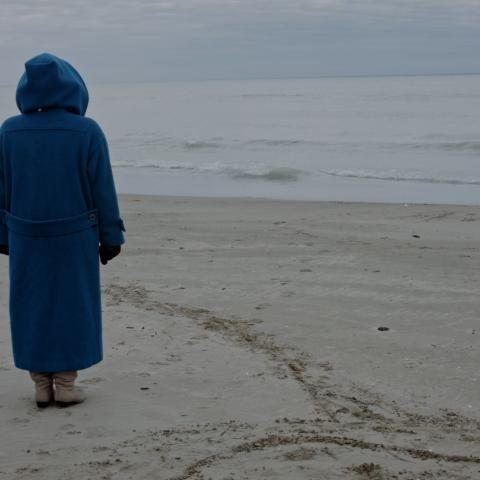 The competitions of the 65th edition of DOK Leipzig have been finalised. Now that the nominations are in for the short and long animated and documentary films for the International Competitions, the German Competitions and the Competitions for the Audience Awards, the programme of films is complete. Competing for the Golden and Silver Doves this year are 74 films, 48 of which are being screened in Leipzig as international or world premieres.
The International Competition Long Documentary and Animated Film is showcasing 13 works from the documentary film sector. These include films by first-time directors as well as works by multiple award-winning filmmakers. The range of form extends from observational style to performative dramatisations to the creative appropriation of archived images. The selection includes productions from Argentina, Canada, the Philippines and Lebanon.
Three documentary debut films use different approaches to tell biographical stories in the context of social institutions. "The Dependents" by Sofía Brockenshire combines a portrait of her father, a well-travelled Canadian immigration official, with reflections on borders, privileges and dependencies. In "The Invisible Frontier", Mariana Flores Villalba films Mexican military exercises on a deserted island in the Pacific – and in doing so addresses the violent conditions in her country far from the images seen on film. Joseph Mangat's "Divine Factory" portrays a factory outside Manila that manufactures statues of saints as a microcosm of the economic, social and spiritual conditions in the Philippines. These debut films by Brockenshire, Villalba and Mangat will each celebrate their world premiere in Leipzig.
Several films in this competition are based on archival research. Two of them take a look at colonial power structures: "Tropic Fever" by Mahardika Yudha, Robin Hartanto Honggare and Perdana Roswaldy examines visual material relating to Dutch colonists in Indonesia and finds the colonial ideology rooted in the plantation. Although there have been Dutch productions on similar themes, such as "Mother Dao, the Turtlelike" (1995, Silver Dove), this is the first time an Indonesian feature film has appropriated these images. Meanwhile, in her latest film, "Ciné-Guerrillas: Scenes from the Labudović Reels", Mila Turajlić, to whom this year's DOK Leipzig Homage is dedicated, draws on footage taken by Josip Broz Tito's favourite cameraman, whose work during the Algerian War was a foreign policy mission by Yugoslavia.
The French production "A Hawk as Big as a Horse", which Sasha Kulak presented at DOK Industry in 2021, will be screened as a world premiere. This film portrays a transgender ornithologist named Lydia who in a performative way transforms her surroundings on the outskirts of Moscow into something resembling the universe of "Twin Peaks". The Canadian entry "A Night Song" by Félix Lamarche, also a world premiere, examines the controversial subject of assisted suicide. Also in competition: the latest works by Nikolaus Geyrhalter ("Matter Out of Place"), Corine Shawi ("Perhaps What I Fear Does Not Exist") and Hernán Fernández ("Landscapes").
The International Competition Short Documentary and Animated Film features a total of 24 works, of which eleven are animated and 13 are documentaries. Animation artists such as Priit Tender from Estonia and Elizabeth Hobbs from the UK, both veterans of DOK Leipzig, are returning this year to present the visual comedy of the genre. The documentary entries take us from the remote tracks of a motor-driven backup train in Colombia to a three-generation household experiencing the lockdown during the coronavirus pandemic in New York City.
Several short films reflect debates on authorship and truth as these relate to the creation of digital images. Claudia Larcher, for example, had an artificial intelligence create a film using analogue images. Gala Hernández López, meanwhile, focuses on gender stereotypes and the algorithmically influenced attention economics of what's known as the incel scene.
"The films at this year's festival confront us with genuine social realities, but they also teach us that documentary images must be approached with scepticism," says festival director Christoph Terhechte. ": At a time when deep fakes are circulating online, DOK Leipzig regards itself as a platform that enables a critical discussion of the way images are being created and the forms of truth that are resulting from this."
In the German Competition Long Documentary and Animated Film, "Uncanny Me" engages with this examination of how reality is depicted. In Katharina Pethke's film, a young woman decides to have a deceptively real avatar made of herself for her work as a model – thus raising questions of morality and individuality. Sarah, the protagonist in "The Homes We Carry" (director: Brenda Akele Jorde), also reflects on her identity as the daughter of a German mother and a Mozambican father who was one of 20,000 contract workers in the GDR in the 1980s. When the Wall fell, he had to return to his home country and leave his family behind in Germany.
Also taking part in the German Competition is one of the three latest films by Heinz Emigholz, all of which are being screened at DOK Leipzig. "Slaughterhouses of Modernity" critiques German history by examining Argentinian, Bolivian and German architecture. Other competition entries include Tilman König's portrait of his father, a former youth pastor from Jena whose stance against the far right was a source of controversy ("Pastor Lothar Stops"), Pepe Danquart's "Daniel Richter" about the well-known painter and the latest film by Rainer Komers, which follows a man from Gelsenkirchen to his chosen country of residence, Japan ("Miyama, Kyoto Prefecture").
Anne Isensee is also returning to DOK Leipzig and to the German Competition Short Documentary and Animated Film with her latest work. As is Falk Schuster, who, with Mike Plitt, is presenting an animated short film about a man who was sent to a juvenile re-education facility because his mother had publicly criticised the socialist regime in East Germany. Sixteen of the 18 entries in the two competitions will premiere in Leipzig.
In the Competition for the Audience Award Long Documentary and Animated Film, Pamela Meyer-Arndt's entry also deals with the consequences of opposing the GDR. "Rebels" portrays the three artists Gabriele Stötzer, Cornelia Schleime and Tina Bara, each of whom ran afoul of the state. In 2019, the year of Volodymyr Zelensky's election victory, "Three Women" by Maksym Melnyk takes us to an isolated Ukrainian village near the EU border. Martyna Peszko's "Revolution 21" observes a theatre ensemble consisting of enthusiastic actors with Down's Syndrome. All three films are celebrating their world premiere at this year's edition of the festival.
Other films in the competition tell of a community of outsiders in the US state of Arizona and of a group of young people who grapple on stage with the impact of the war in eastern Ukraine.
The Competition for the Audience Award Short Documentary and Animated Film features a total of ten works, including a portrait of the band Moderat and a cinematic diary from Kyiv in the spring of 2022.
Complementing the programme of films will be roundtable discussions on three topics. The DOK Talk "animation@DOK Leipzig – Conversations on a Film Genre" is dedicated to animated films in the current festival programme. "Conducting the Archive – Conversations on Footage" will look, among other things, at the power structures involved in the collection of documents. Last but not least, at the DOK Talk "Architecture Film Art – Heinz Emigholz in Conversation", Ralph Eue will welcome one of Germany's most celebrated documentary filmmakers and artists. Parallel to the festival and along with screenings of Emigholz's numerous films, a selection of his drawings will be exhibited at the Techne Sphere Leipzig from 14 October to 1 November.
The festival is presenting a total of 255 films and extended reality (XR) experiences from 55 countries, including 67 feature films and 179 short films. The venerable Kinobar Prager Frühling theatre will be joining DOK Leipzig as a new festival cinema in the southern part of town.
With the publication of the programme of films, including all screening times, ticket sales for the 65th festival edition have started. The festival will also be screening some of the films free of charge in the East Hall of Leipzig Central Station and at the Polish Institute. In accordance with the current Coronavirus Protection Ordinance, DOK Leipzig is not currently imposing any restrictions on access to the festival events. However, it is strongly recommended that you wear a mask covering your nose and mouth at all times while in the venues.
All competition film lists: see PDF document
Online film programme including all dates & online ticket sale: DOK Leipzig programme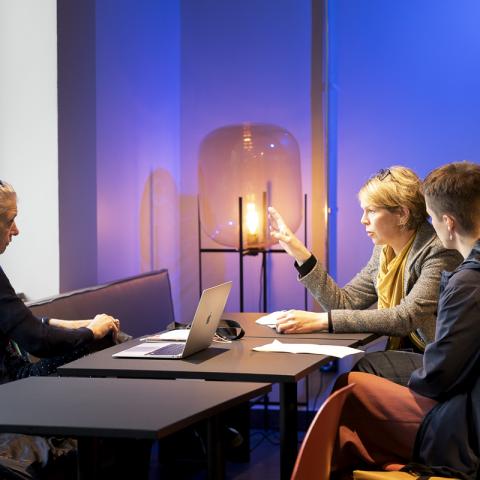 Viktoria Conzelmann
After taking DOK Industry online in 2020 and hosting a hybrid version in 2021, this year the focus is back to in-person participation. Events will be held primarily on location from 17-21 October, with complementary formats such as livestreams, recordings and podcasts to make the programme accessible online. Following the festival week, additional online networking will be available for two days.
DOK Leipzig supports the Ukrainian film industry this year with an initiative created in cooperation with Docudays UA. Ukrainian filmmakers will be offered a platform to present their films and network with international industry representatives, forging partnerships that will strengthen the future of the country's talents. During a DOK Industry Talk, Igor Savychenko (Babylon 13) and Lucie Kon (BBC Storyville) will present "One Day in Ukraine" (directed by Volodymyr Tykhyy), a successful direct collaboration between Ukrainian producers and a leading European broadcaster. The production serves as a case study for the discussion of how future collaborations between major broadcasters and Ukrainian or other regional filmmakers can be designed to gain visibility for their perspectives among a wider audience. In solidarity with the Docudays UA team, whose 19th edition could not take place in Kyiv this March due to the full-scale invasion of Ukraine by Russia, DOK Leipzig will present the national competition as well as the festival's opening film.
With several films in the festival programme, a French-Canadian delegation of producers and a delegation from Toronto's Hot Docs Festival, Canada's documentary industry will also have a strong presence at Leipzig.
A second DOK Industry Talk will feature the Re-Present Media initiative, which works to promote personal stories by filmmakers from underrepresented groups in documentary and non-fiction media. The starting point for the discussion will be their study, "The Power of Personal Documentary Films", which presents experiences of emerging documentary filmmakers of colour in the North American film industry. With this talk, DOK Industry aims to build a bridge to European filmmakers of colour who develop subjects from their own personal stories.
A new format is the DOK Archive Market. Representatives from important European archives and footage libraries will present their work and provide information about their collections, licensing costs and access modalities. British Pathé, Getty Images, Huntley Film Archives, SVT Archives and rbb media will all be present, among others. Participants can also sit down with archive researchers and producers for speed consultations on researching and licensing footage for their projects.
In a parallel programme of discussions and case studies, filmmakers will present their experiences of working with archival material. Dr. Adelheid Heftberger will lead a behind-the-scenes tour of the German Federal Archives in a keynote speech. A discussion on decolonizing archives introduces the perspectives of filmmakers from the global south on footage created by the colonial powers.
In addition, the newly founded GRAP (federal association of German Researchers and Archive Producers) will be launched officially at DOK Leipzig.
One case study will be devoted to Netflix's true-crime production "Gladbeck: The Hostage Crisis", which uses only original footage to tell the story of a notorious 1988 hostage situation in West Germany. Mark Edwards (Netflix / Director of Original Documentary Features), Yan Schoenefeld (Film Five / Producer), post supervisor Juan Galva and archive producers Janne Gärtner and Monika Preischl will provide insights into their work on the film from different perspectives. "Gladbeck: The Hostage Crisis" will be screened at the festival in advance. Representatives of the film team will be present for a Q&A.
A master class by Serbian documentary filmmaker Mila Turajlić concludes the DOK Archive Market and the DOK Talk "Conducting the Archive – Conversations on Footage" will bring the topic to a close.
Friday at DOK Industry will focus on animation. The DOK Talk "animation@DOK Leipzig – Conversations on a Film Genre" discusses the selection of animated films in this year's festival programme. Špela Čadež will present her methods and artistic techniques in a master class. AG Animationsfilm will address the question of the role festivals play for the overall success of short films, feature animation and even series. With "Animation Meets Doc", DOK Industry provides a networking opportunity for documentary filmmakers and animation artists. DOK Leipzig's film programme also features a series of programmes on the art of animation.
DOK Exchange will take place in hybrid form. At this year's conference, XR industry experts will give keynote speeches: Michael Nebeling (researcher and innovator of XR tools for safety and prototyping), Viviana Hochstätter (Creative Producer), Michaela Pňačeková (XR artist, producer, and researcher), Monika Masłoń (VR director, visual artist and art educator).They will talk about different areas of XR art, including expanding spatial imagination in the process of prototyping, healthy embodiment practices, the future of social VR, designing and curating emotional convergence of virtual and physical worlds, and finding alternative sources of financing for XR projects. At the online showcase, more than 20 experts will advise six innovative XR projects in the development phase.
The third season of the DOK Industry Podcast in collaboration with "What's Up with Docs" and the "Programmers of Color Collective" is released during the festival week. The episodes focus on representation and diversity in the documentary industry.
New this year is the DOK Film Market Lounge in the basement of the MdbK (Festival Centre). It offers a place for film viewing with one's own device, as well as encounters and meetings in a relaxed atmosphere.
Six prizes will be awarded at DOK Industry. For the first time, Unifrance will honour a French production or co-production at the DOK Co-Pro Market. The winner will be decided by the Co-Pro Jury and receive subtitles services (sponsored by TitraFilm) and a Unifrance membership for the French producer. The EWA Diverse Voices Award will honour a project by a female director who tells a story from a point of view thus far marginalised and underrepresented in the world of film (along with 1,000 euros and a year-long mentorship by DOK Leipzig). Further prizes are the Saxon Award for the Best Documentary Project by a Female Director (5,000 euros) and the Current Time TV Award for a project from Central or Eastern Europe (1,500 euros). One of the short film projects presented at DOK Short n' Sweet will receive the Square Eyes Festival Consultation Award, which includes a tailor-made consultation on festival strategy. And our partner D-Facto Motion will once again award the D-Facto Motion Works-in-Progress Prize to one of the projects presented at the rough-cut presentations at DOK Preview Germany, providing post-production services valued at 10,000 euros.
The initiative to support Ukrainian filmmakers is funded as a special project "Docudays UA at DOK Leipzig" by Germany's Federal Commissioner for Culture and the Media.
Thanks to support by the Ukrainian Institute and the Goethe-Institut and Goethe-Institut in Exile, additional filmmakers and delegations from Ukraine will be able to participate in the festival and the industry offerings in Leipzig.
Find the full programme here: DOK Industry Programme A-Z
All dates and events: DOK Industry Schedule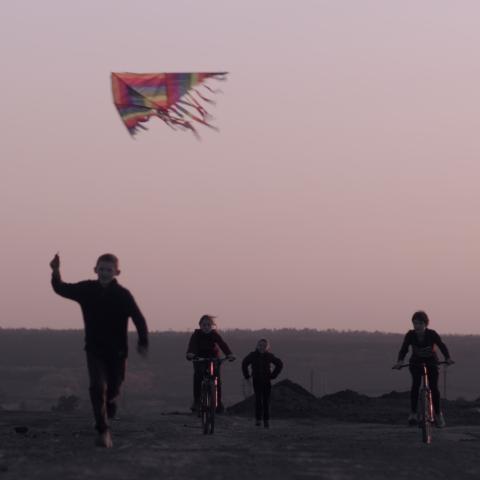 The Docudays UA International Human Rights Documentary Film Festival could not be held in Kyiv this past March due to the Russian war of aggression against Ukraine. Therefore, in a show of solidarity with the Docudays UA team, DOK Leipzig will be providing a venue for the 19th edition of that festival.
A programme called "Spotlight on: Docudays UA 2022" will present the four films selected for the DOCU/UKRAINE national competition along with the opening film "Boney Piles". These works paint a nuanced portrait of the country, telling of property disputes in Kyiv and flea markets in Odesa, of first responders amid the pandemic in rural Transcarpathia, and also of the consequences of the war that has been going on in eastern Ukraine since 2014. The award-winning film "Plai. A Mountain Path" by Eva Dzhyshyashvili was honoured at the Kraków Film Festival in June. The competition jury included Stanislav Bytiutsky, Devika Girish and Daniel Abma, the latter of whom is also on the selection committee in Leipzig.
DOK Leipzig's new "Panorama" section will open a window on the world of central and eastern European film, which is closely linked to the history of the festival. The short and long works screened in this section will range from the socialist past through the period of upheaval to the present day. They'll include works by established filmmakers, such as Latvian-born animation artist Signe Baumane, as well as by talented up-and-coming documentary filmmakers, such as Otilia Babara from Moldova. Panorama will also include films from Croatia, Serbia, Poland, Bulgaria, Slovakia and Ukraine in its first year.
The "Camera Lucida" section will be screening, out of competition, seven exceptional works by renowned documentary filmmakers. Heinz Emigholz is featured here with two essayistic works on architecture in South America, parts 34 and 35 of his ongoing film series "Photography and Beyond". Also included are a film collage about music by the French director Éric Baudelaire, Jumana Manna's semi-documentary piece on the political issue of collecting herbs in the West Bank and a video correspondence between Chica Barbosa and Fernanda Pessoa, paying homage to female avant-garde directors.
The "Doc Alliance Award" selection will present three documentary films nominated from a competition held by the network of festivals to which DOK Leipzig and six other European documentary film festivals belong. The award-winning films were selected during the Cannes Film Festival in May 2022. "The Eclipse" by Nataša Urban received an honourable mention from the jury. "5 Dreamers and a Horse" by Vahagn Khachatryan and Aren Malakyan will also be screened in Leipzig, as will "The Pawnshop" by Łukasz Kowalski.
The new short film event "5x5 Shorts from the East" will be presented by DOK Leipzig in cooperation with its European partners the Kraków Film Foundation, the Czech Film Fund, the Slovak Film Institute, the Estonian Film Institute and the Croatian Audiovisual Centre. These five institutions from central and eastern Europe have each contributed five outstanding works from their collections in order to create a vibrant showcase of the short film genre. These 25 documentary and animated films will be screened free of charge at the Polish Institute on 22 October and can be seen on a "hop on, hop off" basis. By hosting this event during this year's festival, DOK Leipzig is expanding its programme of events for everyone who enjoys cinema.
The entire selection of films in the sections described here can be found in the attached PDF version of this press release.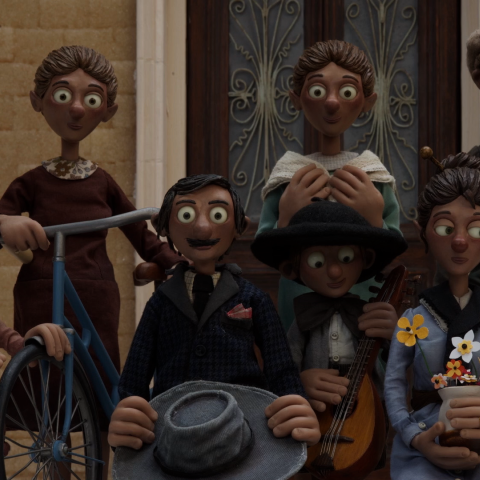 Les Films du Tambour de Soie
The 65th International Leipzig Festival for Documentary and Animated Film opens on 17 October, 2022 with the German premiere of "No Dogs or Italians Allowed". In the film, French director and screenwriter Alain Ughetto traces the lives of his grandparents from Northern Italy to their migration to France in the first half of the 20th century. It will be the second time that a long animated film has kicked off the festival.
In tragicomic style, the stop-motion animation portrays the tough conditions in a Piedmontese mountain village. There, the men of the family have to take seasonal work in the French Alps or fight in colonial and world wars, while the women and children do the field work. When the fascists come to power in Italy, the Ughettos decide to emigrate to the neighbouring country.
"With this imaginatively directed puppet animation, Alain Ughetto has created a warm-hearted memorial to his Italian grandparents Cesira and Luigi," said festival Director Christoph Terhechte. "The director finds himself in this family chronicle, recognises his predilection for working with his hands. Soon the film becomes a reflection on telling stories with what these hands shaped."
Within the narrative framework of "No Dogs or Italians Allowed", Ughetto stages himself in dialogue with his grandmother, who is portrayed as a puppet figure. He also humorously reveals the design of his cinematic world: landscapes out of materials such as clay, cardboard, cotton, and even chestnuts and broccoli.
As an animator and screenwriter for more than 40 years, Ughetto has made stop-motion animation and a do-it-yourself aesthetic his trademarks. He began his career with animated shorts in the 1980s and won France's César Award for "La boule" in 1985.
Ughetto's first feature-length film "Jasmine" (2013), a love story during the Islamic Revolution in Tehran, was nominated for the European Film Award in the Best Animated Feature Film category. "No Dogs or Italians Allowed" celebrated its world premiere in June 2022 at the prestigious Annecy International Animation Film Festival, where it received the Jury Award and the Gan Foundation Award for Distribution.
The opening ceremony of DOK Leipzig takes place on 17 October, 2022 at 7 pm at CineStar 8. There will also be a free public showing of "No Dogs or Italians Allowed" at 8:30 pm at Leipzig Central Station (Osthalle). The director Alain Ughetto will attend both of these screenings.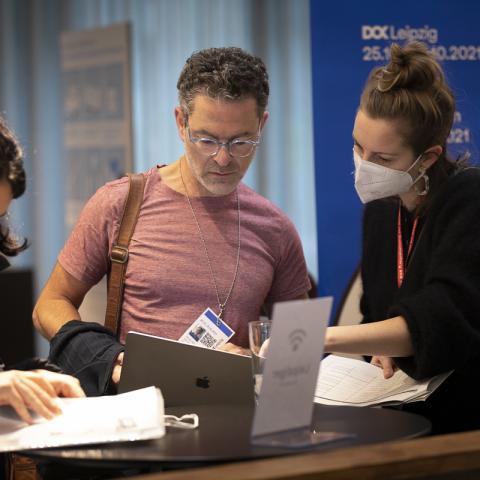 Viktoria Conzelmann
At this year's 18th DOK Co-Pro Market 34 documentary projects from 32 countries will have the opportunity to find international financing and co-production partners (see below for complete list). For the first time, a series is part of the selection. "The Sharp End of a Knife" by Godisamang Khunou (Mogale Pictures) features inmates of a women's prison in Johannesburg who are serving life sentences after defending themselves from their violent husbands.
A total of 262 projects were submitted. Notable among them were a number of strong entries from Georgia, three of which were ultimately selected. The French-Georgian production "Kartli" by Tamar Kalandadze and Julien Pebrel is co-produced by Habilis Productions and Sakdoc Film, the production company behind the successful films of Salomé Jashi. Dea Tcholokava will present "The Mud Princess" (17/07), and Gvantsa Meparishvili is looking for partners for her film "Boxes From Georgia" (Millimeter Film). In the latter film, the director accompanies volunteers at a humanitarian aid collection centre in Tbilisi that sends vital goods to Ukrainians affected by the Russian war of aggression.
The Ukrainian production "A Bit of a Stranger" (Albatros Communicos) also looks at the impact of the war on the people there. Director Svitlana Lishchynska films her Russian-speaking family for over a year during Russia's attacks on their homeland: Mariupol and Ukraine. Her daughter and granddaughter eventually flee to London, leaving Svitlana's mother alone back in Kiev.
Other projects also reflect current, globally discussed topics. In "The Culprits" (Boogaloo Films), Marta Duran films young women discussing their decision to have an abortion as teenagers. Tuffi Films presents "In a Box" by Liinu Grönlund and Okku Nuutilainen, a film about the commitment of researchers and private citizens to save endangered frogs, reptiles and fish species from extinction. "Ojos de Agua, Free the Waters of Chile" (Dryades Films) follows two indigenous Chileans in their struggle to de-privatise water and enshrine its status as a common good in the constitution.
In terms of artistic approaches, the selected film projects are all unique and promising. A number of the titles are distinguished by their creative use of archival material. For "Becoming Omer Khairy" (Black Balance Artistic Production), Alyaa Musa uses personal and public archive to trace the mystical story of a Sudanese artists and his second identity as a young White Briton. In "Colosal" (Tavab, Movimiento Cine), Nayibe Tavares-Abel uses newspaper articles, VHS tapes, 16mm films, and objects to try to clarify whether her grandfather was actually involved in electoral fraud during the 1990 presidential elections in the Dominican Republic, while also dealing with a new fraud during the 2020 municipal elections. Sára Timár also embarks on a research trip within her own family sphere with "Under the Dance Floor" (Little Bus Production, Alter Ego Production). She explores the history of her family's house, which served the communist regime of the Hungarian People's Republic as a secret prison and place for violent interrogations in the 1950s.
Some of the producers or directors invited to the DOK Co-Pro Market have already shown films at the festival in the past. In "Superposition" (CORSO Film), Gesa Hollerbach ("All For The Countryside," 2019) explores the ambitious work of renowned scientists on Germany's first commercially viable quantum computer — a technological milestone that promises solutions to global problems, but may still fail to deliver. Bálint Révész ("Granny Project," 2017) is also back at the festival and will present his new project "Voice/Over" (Roughhouse Project). Filmmaker Jasmila Žbanić ("One Day in Sarajevo," 2015), known among others for the award-winning feature film "Quo vadis, Aida?," is participating in the Co-Pro Market with her project "Blum" (Deblokada, Produkcija Živa). Susanne Kim (director of "Imagine Swimming," 2016 and "Cabinets of Wonder," 2021) is represented with her new project "Becoming Kim" (Neufilm).
Part of the selection are also four promising projects that the DOK Industry Team scouted at regionally focused partner training initiatives and film markets. The four projects were awarded the DOK Leipzig Accelerator Prize: "Baltic UXO" (East Doc Platform), "A Hole in the Wall" (Doc Lab Poland Docs to Start), "Kange" (Durban FilmMart) and "In the Light of Darkness" (Docs by the Sea). A fifth project will be selected at the BDC Discoveries Workshop in late September.
The DOK Industry team was supported in the selection process by Anna Berthollet (CEO & Sales Agent at Lightdox), producer Derren Lawford (founder and CEO of DARE Pictures) and producer Heejung Oh (founder of Seesaw Pictures).
While last year, the DOK Co-Pro Market was held as a hybrid event, this year's events will take place primarily on-site (17-18 October). In the run-up to the event, DOK Industry will once again offer an online meeting of the project representatives to prepare for the market and strengthen the sense of community.
Overview of all 34 projects: DOK Co-Pro Market
A variety of global and local protest movements have been instrumental in bringing the mounting climate crisis to the forefront of public debate.
In its 65th edition, DOK Leipzig will present two programmes of films that examine this climate activism, be it at traffic junctions in London ("Rebellion", 2021), in the treetops of the Dannenröder Forest ("Barricade – Pictures of an Occupation", 2021), in the Argentinian salt flats ("Oro Blanco", 2018) or in the forests of the Philippine island of Palawan ("Delikado", 2022). Starting off the film programme "Time to Act! Our House Is on Fire" will be a free preview screening of the documentary "Rebellion" on the Friday before the festival (14 October 2022, 7 pm, Cinémathèque Leipzig). The film portrays the environmentalist movement Extinction Rebellion.
The "Re-Visions" section complements this thematic emphasis. Titled "Sow the Wind and Reap the Storm", it will explore the effects of the climate crisis on the Global South while revisiting two former festival films that have lost none of their topicality. "New Eldorado" (2004) tells of impending environmental degradation as well as forced resettlement resulting from gold mining in Romania. "Are You Listening!" (2012), which opened DOK Leipzig ten years ago, profiles the inhabitants of a village in Bangladesh that was destroyed by floods.
This year's Homage is dedicated to the renowned Serbian documentary filmmaker Mila Turajlić. Her works reflect on the history of Yugoslavia and the non-aligned states, which she explores along the intersection of national consciousness, personal memories and found footage. Employing diverse forms of artistic expression – from lecture performances to video art to essay films – she attempts to counteract the fading of the collective memory of her country of origin. The programme includes her internationally acclaimed productions "Cinema Komunisto" (2010) and "The Other Side of Everything" (2017), as well as the film "Innocence Unprotected" (1968) by the late Yugoslav director Dušan Makavejev, which is Turajlić's carte blanche selection for this year's festival. In her master class, she will discuss strategies of artistic research in filmmaking and her fascination with archives. Additionally, one of Mila Turajlić's latest documentary films will be presented in this year's International Competition.
A total of four film programmes, each multifaceted in terms of content and technique, will be dedicated to the art of animation. Alongside classical animation techniques and linear narratives, numerous experimental works dissolve the boundaries between animation, visual art, documentary film and performance art.
The programme "Slovenian Animation. The Conquest of Poetic Space" brings together outstanding contemporary short animated films from Slovenia. The focus is on works by the internationally renowned filmmaker Špela Čadež, including her puppet animation "Lovesick" (2007), the short shadow play "Last Minute" (2010) and the two cutout animations "Nighthawk" (2016) and "Steakhouse" (2021), as well as a puppet animation recap of the Netflix series "Orange Is the New Black". The 3-D animation "The Box" (2017) by Dušan Kastelic, considered a master of this technique, and short films by the talented newcomers Leo Černic and Miha Reja are among the other works that will be screened. In a master class, Čadež will give insight into her distinctive style of eavesdropping on reality to lift stories and characters from it and create animated poetic spaces for them.
The starting point and centrepiece of the event "Dancing in the Dark. Hysteresis & Company" is "Hysteresis" (2021), the latest work by renowned animation artist Robert Seidel, which will be presented at Leipzig's Schaubühne Lindenfels on 21 October. In a live performance, the movements of the queer Australian dancer Tsuki and the AI-based animation of Robert Seidel's drawings will merge to the music of sound artist Markus Popp alias Oval. In straddling these different art forms, this experimental work creates room for diverse associations. An in-depth discussion with the audience will be devoted to the making of "Hysteresis". The performance will be preceded by a programme curated by André Eckardt and Robert Seidel featuring films by other artists on the interrelation of body, movement and animation.
In the fourth edition of the "Animation Perspectives" dialogue setting, directors Veneta Androva and Tang Han will discuss their work as artists. The event includes a screening of two works from the previous two editions of DOK Leipzig: Veneta Androva's fictional computer-animated vision of the future, "AIVA" (2020), in which the male mentality of an engineer absurdly seeks to program gender equality into the art market, and Tang Han's Silver Dove-winning "Pink Mao" (2020), a humorous examination of the 100-yuan note. While maintaining an ironic distance, both artists examine roles in society and pose the question of how the term "animated film" may be understood. As fundamentally different as their artistic styles may be, parallels can be found in their basic interdisciplinary approach, which explores the boundaries of animation.
Last but not least, in the programme "Soul-Things. Through the Hells of Animation", DOK Leipzig will present films that delight in the disturbing and the repressed. This programme was created around the short film "Thing" (2021) by animation artist Malte Stein, which was screened at the festival in 2021. In addition to this film, this series, curated by Malte Stein and André Eckardt, brings together twelve others that confront the viewers with their own vague anxieties. Time and again, the focus is on characters whose conflicts from childhood and youth reverberate in adult life. Included are: a music video by Björk, a film adaptation of a short story by Charles Bukowski, East Asian animation art and films by David Lynch and Jan Švankmajer.
DOK Leipzig would like to thank the Slovenian Cultural Information Centre in Berlin and the Slovenian Film Centre for supporting the film programme "Slovenian Animation. The Conquest of Poetic Space".
The entire film selection of the programme presented here is available for download in the PDF of the press release.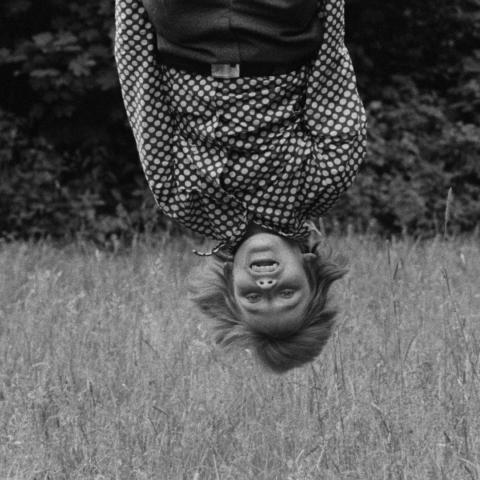 DEFA-Stiftung | Julia Kunert, Thomas Plenert
This year's DOK Leipzig Retrospective will focus on a neglected part of German film and television history: documentaries made by women in the German Democratic Republic (GDR).
"The Female Documentarists of the GDR" is curated by Carolin Weidner and Felix Mende with an awareness that only a few female directors from the former GDR have made it into documentary film lore. What did it mean to be a female documentary filmmaker in the GDR? What kind of films were made over the course of forty years?
The six programmes in the Retrospective include portraits of institutions, essays and observations of everyday life – including DEFA, university and TV productions dating from the founding of the GDR in 1949 to the year the Wall fell. "We spent a lot of time on taking stock at first," says curator Carolin Weidner. "The book 'She. DEFA Directors and Their Films', edited by Cornelia Klauß and Ralf Schenk, was undoubtedly an important signpost here."
Films by such noted documentarists as Helke Misselwitz ("Who's Afraid of the Bogeyman", 1989), Tamara Trampe ("Once I Was a Child", 1986) and Petra Tschörtner ("Behind Windows", 1984), all of whom remained active in their profession after German unification, are the better-known works in the Retrospective. Many of these films exhibit a personal approach, examining the experiences of individuals in the socialist system. They are devoted to such themes as work and art, childhood and motherhood. They explore the perspectives of women as well as the male-dominated world of the National People's Army.
Female directors also made films, however, on which the dictatorship of the Socialist Party (SED) left a distinct mark, as co-curator Felix Mende points out: "Just like the men, women were enlisted to produce ideological self-affirmations, full of brigades, festivities, clear enemy stereotypes. Of course, even under such conditions, a few works were created whose perspective, though following the party line, show a certain idiosyncrasy and portray more than what was already known anyway."
The Retrospective will therefore also present films that were made in support of the state ("Diary of a German Woman", 1969) as well as works by such filmmakers as Dagnija Osite-Krüger ("Ablinga", 1977) which have long been hidden from view. Film historians as well as some of the filmmakers who are still alive are expected to attend the events in this section.
The DEFA Matinee complements this programme by including the limited GDR œuvre of director Angelika Andrees, who is also featured in the Retrospective mentioned above. She belongs to a generation of female documentary filmmakers who experimented with aesthetic freedom at the Babelsberg Film Academy in the late 1970s. Under the heading "Angelika Andrees – The Empathetic Eye", six short documentaries will be presented, including the film "Home" (1978) about young people in a reform school, which was co-directed with Petra Tschörtner and banned until 1990. Andrees' works are sensitive portraits of outsiders in East German society and poetic vignettes depicting communal spaces from the "Friedrichstadtpalast" (1980) to the Alexanderplatz underground station ("Peace Posters", 1983). Andrees left the GDR in 1985 and almost completely turned her back on cinema.
The Matinee Saxon State Archive also ties in with the Retrospective. The programme "Socialist Women's Images – The Female GDR" showcases films by women that address women's issues ("Frauen unserer Zeit", 1969), environmental protection ("Wir und unsere Umwelt", 1971) and filmmaking ("Tagebuch eines Schmalfilmers", 1975) in the GDR. The satirical short film "Hilfe, ich bin eine Frau" (1981) formulates a feminist critique that pointedly contrasts the level of equality the state claimed to have achieved with the everyday lives of women in society.
DOK Leipzig would like to thank the Federal Foundation for the Study of the Communist Dictatorship in Eastern Germany, the DEFA Foundation and the Saxon State Archive for their funding and support of the film programmes.
The entire selection of films in the programmes profiled here can be found in the attached PDF version of this press release.
DOK Leipzig will host its 65th edition in local cinemas and venues once again — a decision that signals the festival's continued commitment to bringing back cinema culture and shared festival experiences.
From 17 to 23 October, DOK Leipzig will screen new documentary and animated films from around the world, along with creative XR works and thematic film programmes. The team looks forward to welcoming numerous international filmmakers and guests to Leipzig, where works will be explored with audiences at film talks and master classes. Turning the focus back to on-site events is the festival's response to the noticable desire for direct exchanges among visitors and industry professionals.
However, some of the online features will continue in a reduced format, including recorded film talks. Selected films will again be available on demand throughout Germany via "DOK Stream" following the festival, with this year's lineup focusing on the award winners.
DOK Industry is also prioritising a return to physical attendance at events for film professionals. Some areas will still be accessible online, such as livestreams of project presentations and talks, along with two days of post-festival digital networking for participants.
As in previous years, this year's festival poster design was created by Leipzig graphic artist Stefan Ibrahim. It features the key to an old East German-style lock, which many audience members may still recognise. Further key imagery will be sprinkled throughout the festival's in-person and online offerings for audiences to discover.
"We deliberately allowed for many interpretations with our design," festival director Christoph Terhechte says. "The films and works in our programme are united by their curiosity about the world. They open up new perspectives and previously unknown worlds, so to speak. But the key is also always a symbol of home — people who have to leave their homes often keep their apartment key as a symbol of connection to their home, their origins and past. As a festival with an East German history, we opted for a key style from the German Democratic Republic."
A number of festival themes have already been selected. DOK Leipzig will emphasise its long-standing connection to Eastern Europe with a programme of current feature-length films that offer insights into life in the region's countries. The festival will also increase support for networking among documentary and animation filmmakers through new formats. Additionally, four of the programmes will explore the different artistic styles of animated film.
This year's Retrospective will focus on documentary works by female filmmakers from the GDR. The Homage is dedicated to renowned Serbian documentary filmmaker Mila Turajlić, whose work explores the historical significance of moving images. Two other programmes feature films that address the climate crisis, resource scarcity and environmental activism.
From today through 15 July, festival fans can secure Early Dove accreditation at a discounted rate for access to film screenings, talks with inspiring guests and industry events.
Free tickets for film screenings are available to anyone who takes part in DOK Leipzig's audience survey. The festival wants to get to know viewers better by gathering feedback from past and future visitors. The English version of the survey is available from 20 June via dok-leipzig.de.
Films and XR works can still be submitted until 1 July. The deadline for the DOK Co-Pro Market is 21 July.
Download the poster design: Press Download
Information on Early Dove Accreditation:  Accreditation
Information on Submissions for DOK Leipzig 2022 and DOK Co-Pro Market: Submission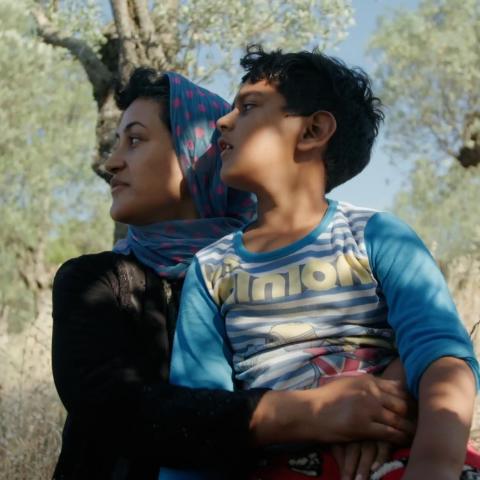 The films competing for this year's Doc Alliance Awards have been announced. Each of the seven European documentary film festivals that make up the Doc Alliance network has nominated one short and one feature-length documentary film from its past programme. The Doc Alliance Awards support emerging talents in European documentary film. Only the directors' debut or second feature-length films are nominated for the Best Feature Film category.
DOK Leipzig nominated the feature-length film "Nasim" and the short film "Light Years". In "Nasim", filmmakers Ole Jacobs and Arne Büttner follow the Afghan Nasim and her family in the Moria refugee camp on the Greek island of Lesbos. The observational documentary shows with great empathy the daily life of the mother of two who time and again manages to deal impressively with the challenges of this unacceptable and extreme situation. "Nasim" was part of the German Competition at DOK Leipzig 2021 and was honoured with the DEFA Sponsoring Prize, ver.di Prize for Solidarity, Humanity and Fairness. "Light Years" by Monika Proba was shown in the International Competition Short Film at DOK Leipzig last year. The protagonists of the film Witali and Łukasz have graduated from the Orthodox seminary and would now have to start a family or become monks to take up priesthood. But the two friends prefer to live for the moment, to muse, philosophize and sing. The empathetic film follows the two men between religious obligations, family expectations and their tender friendship.
The 15th Doc Alliance Awards will be presented on 24 May in Cannes as part of the Marché du Film industry programme. The winning films will be decided by a jury of seven international film critics and film professionals, also selected by network's festivals. This year's jury members are journalists Esther Buss (Jungle World, Filmdienst, Der Tagesspiegel), Frederik Bojer Bové (POV.International), Teresa Vieira (Antena 3, Cineuropa), Nepheli Gambade (Critikat), Michał Walkiewicz (Filmweb) and Leila Basma (dok.revue) as well as Nicolas Wadimoff (filmmaker, Head of the Cinema Department at HEAD – Genève).
Since 2008, a feature-length documentary has annually been honoured with the Doc Alliance Award and since 2021 an additional award has been given to a short film. The prizes are endowed with 8,000 EUR each for the filmmakers to spend on their next project. In addition, each of the festivals in the network shows at least 3 films from the selection at its next edition.
Members of the Doc Alliance network include: CPH:DOX, Doclisboa, Millennium Docs Against Gravity FF, DOK Leipzig, FIDMarseille, Ji.hlava IDFF and Visions du Réel.
Overview of the nominated feature-length films:
5 Dreamers and a Horse, Armenia/ Germany/ Switzerland/ Denmark/ Georgia, Directors: Aren Malakyan and Vahagn Khachatryan, nominated by Visions du Réel
A Night of Knowing Nothing, France/ India, Director: Payal Kapadia, nominated by FIDMarseille
The Eclipse, Norway, Director: Nataša Urban, nominated by CPH:DOX
Kapr Code, Czech Republic/ Slovakia, Director: Lucie Králová, nominated by Ji.hlava IDFF
Nasim, Germany, Directors: Ole Jacobs and Arne Büttner, nominated by DOK Leipzig
The Pawnshop, Poland, Director: Łukasz Kowalski, nominated by Millenium Docs Against Gravity
Yoon, Portugal, Directors: Pedro Figueiredo Neto and Ricardo Falcão, nominated by Doclisboa
Overview of the nominated short films:
Abyss, Denmark, Director: Jeppe Lange, nominated by CPH:DOX
Aralkum, Uzbekistan/ Germany, Directors: Daniel Asadi Faezi and Mila Zhluktenko, nominated by Visions du Réel
Beautiful Solution, Czech Republic, Director: Eliška Cílková, nominated by Ji.hlava IDFF
Joanna d'Arc, Poland, Director: Aleksander Szamałek, nominated by Millenium Docs Against Gravity
Light Years, Poland, Director: Monika Proba, nominated by DOK Leipzig
In the Billowing Night, France, Director: Erika Etangsalé, nominated by FIDMarseille
Peace, Portugal, Directors: José Oliveira and Marta Ramos, nominated by Doclisboa
More information about the nominated films: Doc Alliance Nominations
For older Press Releases (from 2020) please visit our Press Archive