Extended Reality: DOK Neuland
default
Every year during the festival week, our extended reality exhibition DOK Neuland invites visitors to experience unexpected stories in virtual spaces.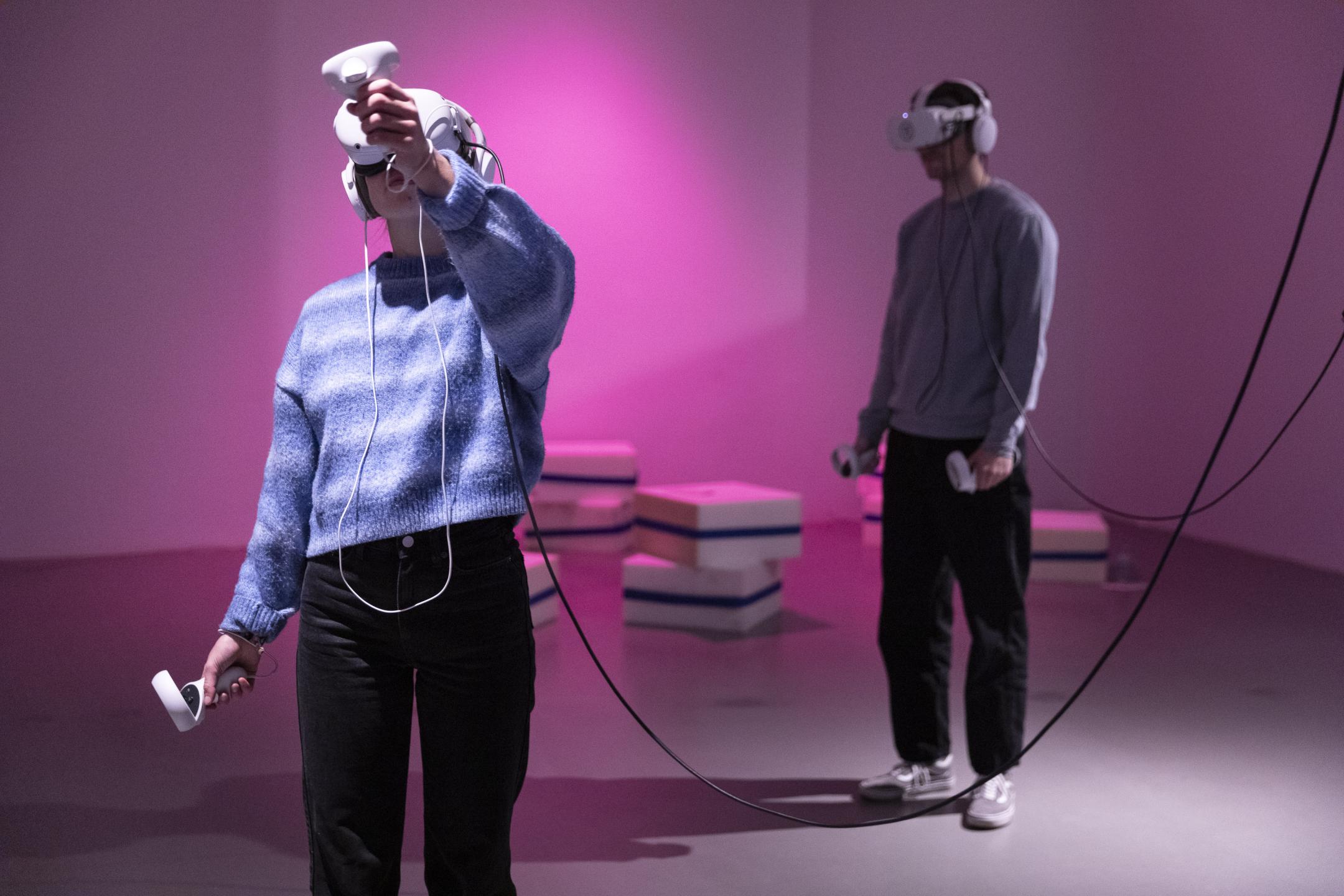 About DOK Neuland
Since 2015, DOK Neuland has provided an exhibition platform for the art of interactive and immersive works. Each year we invite our audience to discover around 10 international pieces here.
This experience is made possible by technologically advanced new media such as virtual reality, augmented reality or 360° films, all with bold narratives that tap into the revolutionary potential that unfolds when art and technology collide. By taking advantage of the possibilities presented by new media, selected artists break with familiar story lines, expand the boundaries of our reality and, together with visitors, explore the interaction between humans and machines to create new realms of experience.
About the 2023 Exhibition
"Nowhere Is Only Somewhere"
10/10 – 15/10/2023
Museum of Fine Arts Leipzig
At the end of the day, every Neuland is the same. The world is constantly changing, but its discouraging structures remain. However, "the world" does not even exist. What is understood by it is a vast and complex, even contradictory system of perspectives and realities. We know about the enormous issues of the present: The list is long, and the buzzwords fill all the headlines. Entrenched structures and rigid beliefs are preventing future generations from embracing the future with confidence. The old, long surpassed by realities, is reproduced, consciously or unconsciously.
People's fear of change leads them to close their eyes to the obvious. In fact, the pain and suffering of the individual should be the smallest common ground for collective responsibility. Desire is emerging for healing, for overview, for managed and secured pathways. The prognoses present at times such an eerie dystopia that we are right to be frightened. Still, a pro-active future is not a utopia, but an act of strength. Those who remain passive cannot shape it. It is up to us to ask how we want to use human resources in the future and whether the future we are moving towards is truly the one we want.
The selected XR works delve deep into racist and discriminatory narratives for this year's exhibition. They address war, coloniality, and repression. And patriarchal and heteronormative power. From the unease, the fear, and the torturous death of those who did not belong to the grey majority. On the one hand, we experience how these rigid systems legitimise themselves. But we also experience the resistance of people for whom resignation is not an option.
The exhibition invites us to find playful and intuitive approaches to others and to form a collective identity based on shared thoughts and ideas. We are allowed to witness, feel community, and take collective responsibility for ensuring that no fate is forgotten. Is it even possible to create commitment here? DOK Neuland does not offer to contemplate in immersive worlds. Instead, we call for exiting the matrix in our minds. In the end, despite everything and perhaps because we have little left to stand on, we remain hopeful.
DOK Neuland Team 2023
Johanna Gerlach
Production
Marie Hinkelmann
Technical Implementation
Paula Gehrmann
Scenography
DOK Neuland 2023 was supported by:

DOK Neuland is part of the DOK Nachwuchs programme and is realised in cooperation with the SLM.
Zur Website der Sächsischen Landesanstalt für privaten Rundfunk und neue Medien