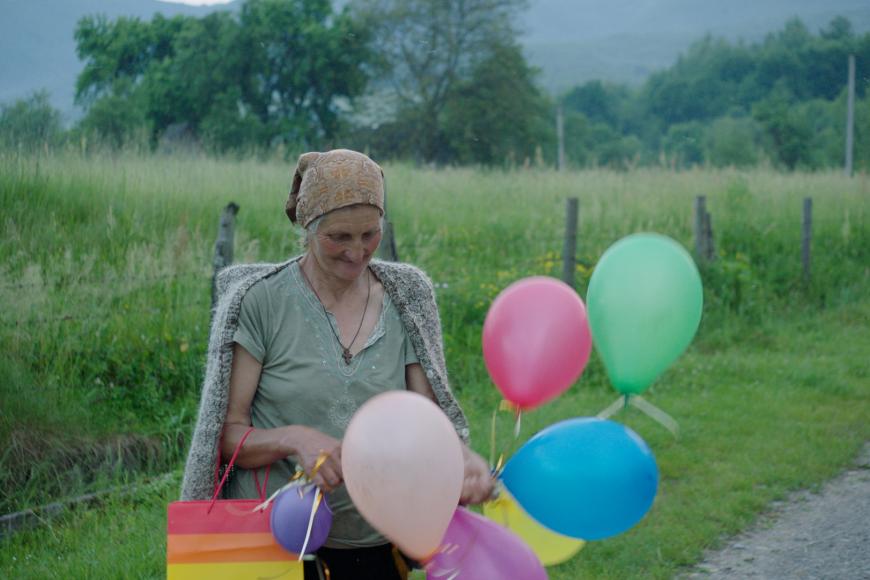 Three Women
Drei Frauen
Maksym Melnyk
Competition for the Audience Award
Documentary Film
2022
85 minutes
In a remote village, whose name roughly means "a cold place", this film looks for warmth in encounters. The Ukrainian village of Stuzhytsya is situated in the Carpathian Mountains in the border triangle between Poland and Slovakia. The three elderly female protagonists – a farmer, a post office clerk and a biologist – are firmly rooted in a place where hardly any young people are left in 2019, the year of Zelensky's election victory. Over time, the film crew also becomes, at least temporarily, a valued part of the village community.
Between horoscope readings at the post office, farm work with pitchforks and church blessings of cars in need of repair, Maksym Melnyk, also a native of Zakarpatska Oblast, establishes a growing intimacy with the three women. His documentary style arises from the interaction: In the beginning, he asks off camera questions like a reporter, but as he gets closer to the people, he enters the frame himself. Very few documentary filmmakers today see themselves as a "fly on the wall". But gifting a pig to a protagonist in front of the camera or letting her cut the camerman's hair? That's rather unusual. Taking the single farmer Hanna, who treats Melnyk and his cinematographer Florian Baumgarten – whom she calls "the German" – like sons, as an example, the film portrays a rural lifestyle full of privation that seems to be in decline in the mountain region near the EU border.
Screenings & Tickets
During Checkout you can apply discounts or your accreditation.
Calendar
No discount needed - costs 6,50€ in general
Calendar
During Checkout you can apply discounts or your accreditation.
Calendar
Credits
Contact
Winner of DEFA Sponsoring Prize, Golden Dove (Competition for the Audience Award)