DOK Industry Podcasts 2021
Brown Lives to the Fore – Lack of Representation of Brown LGBTQ+ Stories
default
In the larger mainstream cinematic space, or even film festival space, there is an acute shortage of both narrative and documentary films made and exhibited with brown LGBTQ+ stories at its center. Is it lack of production of such stories, lack of quality of production, lack of resources to produce such stories, or is it that most of the brown people, living in developing countries, are still locked inside the closets - marginalized due to social, legal or religious challenges. The panel will put brown LGBTQ+ filmmakers & curators at the center of this discussion to unearth the reasons, and also to find a way ahead for these stories to be told and to reach larger audiences.
This podcast is a collaboration with POC2, Programmers of Colour Collective. 
---
Curated and moderated by Sridhar Rangayan, a conversation with Sonal Giani, Kalki Subramaniam and Arshad Wasi Khan.
Recorded on 9 October 2021 
Language: English 
Duration: 56 minutes
Curator and Moderator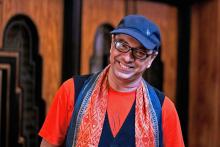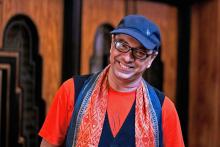 Sridhar Rangayan
Filmmaker
KASHISH Mumbai International Queer Film Festival
Festival Director
Sridhar Rangayan wears many caps – of a filmmaker, writer, activist and festival director. His award winning films The Pink Mirror, Yours Emotionally, Purple Skies, Breaking Free and Evening Shadows are at the forefront of India's emergent queer cinema movement. He won the National Award for Best Editing for his film Breaking Free, and his film Evening Shadows has won 24 international awards and screened at 75 festivals, and now streaming on Netflix. He is the Founder Festival Director of KASHISH Mumbai International Queer Film Festival, South Asia's biggest LGBTQIA+ film festival and the most well known in India for the past 11 years. He has served on the jury of several leading film festivals such as Berlinale, Outfest, Iris Prize, Mardi Gras, Image+Nation and Movies That Matter. He is a founder trustee of The Humsafar Trust, India's largest LGBTQ CBO, and also a founding facilitator for Sweekar – The Rainbow Parents, a support group for parents of LGBTQ children.
Guests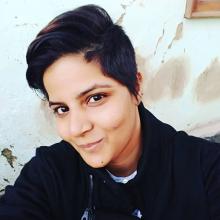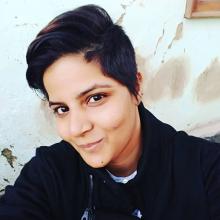 Sonal Giani
LGBTQIA+ Activist, Filmmaker, DEI Consultant
Sonal Giani is an LGBTQIA+ activist and filmmaker. She is the co-founder of youth lgbtq initiative 'Yaariyan' and Mumbai based support group 'Umang' – a safe space for lesbians, bisexual women and transmasculine persons. She has appeared in numerous talk shows, documentaries and films.
Filmography:
Untangle (2021), Art Film, Producer and Co-Director  
Mirage (2021), Art Film, Producer and Co-Director
Sandarsh (2021), Documentary Short, Director 
Being Asexual (2020), Podcast, Executive Producer 
Being LGBTQIA+ (2020), Documentary Short, Executive Producer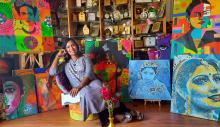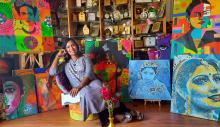 Kalki Subramaniam
Transgender rights activist, Artist, Actor, Writer
Sahodari Foundation
Founder
Kalki Subramaniam is a celebrated Indian transgender activist, artist, entrepreneur, poet, actor and inspirational speaker. Kalki is the founder of Sahodari Foundation, an organization which works for Indian transgender population through its powerful and innovative art projects. Being a champion of transgender rights in India, Kalki is well known for her relentless activism. She was one of the prominent activists who lobbied for the recognition of legal rights for transgender people and was one among the activists responsible in the milestone victory in 2014 when the Supreme court of India finally recognized the transgender community's civil rights in the country.
Kalki has received several awards for her contribution towards transgender rights. Through Sahodari Foundation, she has initiated the powerful Red Wall project and The Thoorikai Project in which more than five hundred transgender and non-binary people across India have participated. The artworks and installations by transgender artists and exhibited across universities, colleges, education institutions, seminars and other public spaces.
Kalki exhibits her art, poetry and performs in the events. Kalki is known for her vibrant portrait paintings and pop art works. Her artworks are found in India, USA, Canada, Netherlands, Austria and Germany, In February 2017, Kalki Subramaniam was invited by the Harvard University to speak at the India Conference where she received a standing ovation for her speech.  In November 2018, she was invited by Schwules Museum, Germany to present her poetry, art and activism to a special audience. In June 2019, she was invited by TransAmsterdam organisation in Netherlands and was conferred the International Ambassador of the organisation. In 2021, She released her book 'We Are Not The Others', the book has received rave reviews. The poems from her book have been prescribed in many colleges and universities in India.
Filmography: 
Narthaki (Tamil, 2010)
Lone Wolf (Hindi, 2018)
Sarkar (Tamil, 2019)
Website: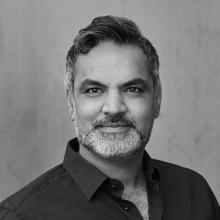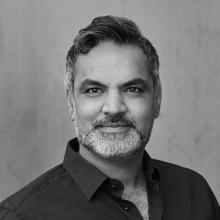 Arshad Wasi Khan
Filmmaker
gray matter productions
Director
Arshad Khan is a multiple-award-winning Canadian filmmaker who created intersectional and diverse cinema. He is a writer, director, production designer and film programmer with several long and short form films to his credit. After great success with his autobiographical documentary ABU, Khan is currently developing his first fiction feature with support from Telefilm Canada and SODEC.
Filmography: 
Sima's Sixth Sense (2022)
Quickening (2021)
Abu (2017)
Valery's Suitcase (2015)
What Have I Become (2014)
Website:
Realised in collaboration with: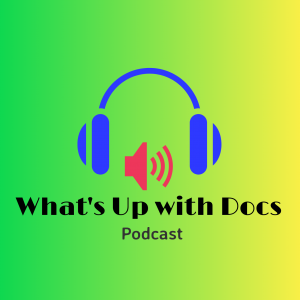 DOK Industry Podcasts 2021