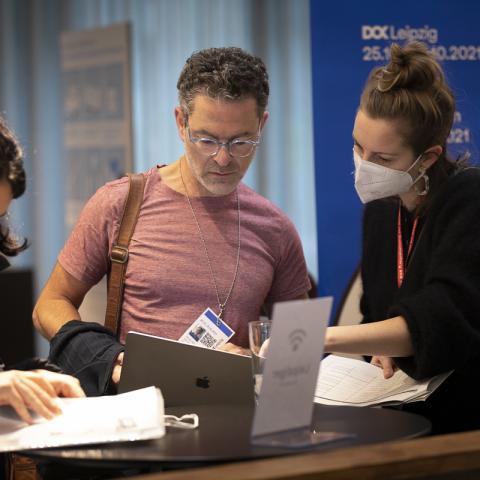 Viktoria Conzelmann
At this year's 18th DOK Co-Pro Market 34 documentary projects from 32 countries will have the opportunity to find international financing and co-production partners (see below for complete list). For the first time, a series is part of the selection. "The Sharp End of a Knife" by Godisamang Khunou (Mogale Pictures) features inmates of a women's prison in Johannesburg who are serving life sentences after defending themselves from their violent husbands.
A total of 262 projects were submitted. Notable among them were a number of strong entries from Georgia, three of which were ultimately selected. The French-Georgian production "Kartli" by Tamar Kalandadze and Julien Pebrel is co-produced by Habilis Productions and Sakdoc Film, the production company behind the successful films of Salomé Jashi. Dea Tcholokava will present "The Mud Princess" (17/07), and Gvantsa Meparishvili is looking for partners for her film "Boxes From Georgia" (Millimeter Film). In the latter film, the director accompanies volunteers at a humanitarian aid collection centre in Tbilisi that sends vital goods to Ukrainians affected by the Russian war of aggression.
The Ukrainian production "A Bit of a Stranger" (Albatros Communicos) also looks at the impact of the war on the people there. Director Svitlana Lishchynska films her Russian-speaking family for over a year during Russia's attacks on their homeland: Mariupol and Ukraine. Her daughter and granddaughter eventually flee to London, leaving Svitlana's mother alone back in Kiev.
Other projects also reflect current, globally discussed topics. In "The Culprits" (Boogaloo Films), Marta Duran films young women discussing their decision to have an abortion as teenagers. Tuffi Films presents "In a Box" by Liinu Grönlund and Okku Nuutilainen, a film about the commitment of researchers and private citizens to save endangered frogs, reptiles and fish species from extinction. "Ojos de Agua, Free the Waters of Chile" (Dryades Films) follows two indigenous Chileans in their struggle to de-privatise water and enshrine its status as a common good in the constitution.
In terms of artistic approaches, the selected film projects are all unique and promising. A number of the titles are distinguished by their creative use of archival material. For "Becoming Omer Khairy" (Black Balance Artistic Production), Alyaa Musa uses personal and public archive to trace the mystical story of a Sudanese artists and his second identity as a young White Briton. In "Colosal" (Tavab, Movimiento Cine), Nayibe Tavares-Abel uses newspaper articles, VHS tapes, 16mm films, and objects to try to clarify whether her grandfather was actually involved in electoral fraud during the 1990 presidential elections in the Dominican Republic, while also dealing with a new fraud during the 2020 municipal elections. Sára Timár also embarks on a research trip within her own family sphere with "Under the Dance Floor" (Little Bus Production, Alter Ego Production). She explores the history of her family's house, which served the communist regime of the Hungarian People's Republic as a secret prison and place for violent interrogations in the 1950s.
Some of the producers or directors invited to the DOK Co-Pro Market have already shown films at the festival in the past. In "Superposition" (CORSO Film), Gesa Hollerbach ("All For The Countryside," 2019) explores the ambitious work of renowned scientists on Germany's first commercially viable quantum computer — a technological milestone that promises solutions to global problems, but may still fail to deliver. Bálint Révész ("Granny Project," 2017) is also back at the festival and will present his new project "Voice/Over" (Roughhouse Project). Filmmaker Jasmila Žbanić ("One Day in Sarajevo," 2015), known among others for the award-winning feature film "Quo vadis, Aida?," is participating in the Co-Pro Market with her project "Blum" (Deblokada, Produkcija Živa). Susanne Kim (director of "Imagine Swimming," 2016 and "Cabinets of Wonder," 2021) is represented with her new project "Becoming Kim" (Neufilm).
Part of the selection are also four promising projects that the DOK Industry Team scouted at regionally focused partner training initiatives and film markets. The four projects were awarded the DOK Leipzig Accelerator Prize: "Baltic UXO" (East Doc Platform), "A Hole in the Wall" (Doc Lab Poland Docs to Start), "Kange" (Durban FilmMart) and "In the Light of Darkness" (Docs by the Sea). A fifth project will be selected at the BDC Discoveries Workshop in late September.
The DOK Industry team was supported in the selection process by Anna Berthollet (CEO & Sales Agent at Lightdox), producer Derren Lawford (founder and CEO of DARE Pictures) and producer Heejung Oh (founder of Seesaw Pictures).
While last year, the DOK Co-Pro Market was held as a hybrid event, this year's events will take place primarily on-site (17-18 October). In the run-up to the event, DOK Industry will once again offer an online meeting of the project representatives to prepare for the market and strengthen the sense of community.
Overview of all 34 projects: DOK Co-Pro Market