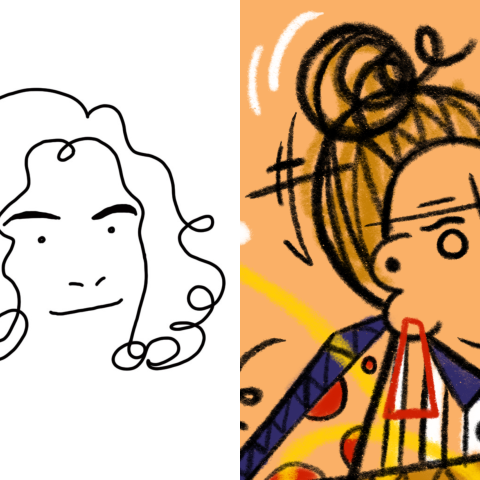 "Animation Perspectives": One workshop, two approaches to art
Artistic perspectives in animated film are presented not only in DOK Leipzig's competitions, but in its curated sections as well. This year, the multiple award-winning animation artists Anne Isensee and Michelle Brand have been invited to be the focus of the "Animation Perspectives" section, where they will give each other and the audience an in-depth look into their work and their vision. The workshop will further include a virtual excursion into their studios and professional lives and be complemented by a programme of their films.
"In the beginning was the line," notes curator André Eckardt in regard to these two exceptional artists. "They philosophise while drawing as well as through animation. They formulate outlooks on life and on ways that its surprising twists and predetermined coincidences can be represented in art."
Michelle Brand's works revolve around temporality. Working entirely without a script, she composes her films like variations on one of the central themes in her work. Various moments within the flow of time become simultaneous and superimposed in her images. Bodies in a pedestrian area merge with one another for a few moments or fragment into abstract shapes. Brand's pursuit of the visual arts is evident in many of her films.
Anne Isensee uses a reductive style in her works – mostly drawing black outlines on a white background – thus enabling the viewer to focus on the things she wishes to communicate. Her art is about attitude and self-determination and problems arising on life's path. No instructions are given on how to live one's life, but people are encouraged to communicate with one other. Her short film "Megatrick" marked her debut at DOK Leipzig in 2017, earning her a Golden Dove.
"Beyond Animation": Home as a safe place or a source of danger
"Home – Floor Plan, Elevation & Life" is the title under which the "Beyond Animation" film series will present animated film as the perfect medium for portraying "home" as an elusive place. "Home" is so much more than a place on a map. André Eckardt, who curated this selection of films as well, writes: "Every emotion has a location. Every formative, touching or hurtful experience has a somewhere. This is often, even most of the time, the place called 'home'."
To depict this "somewhere", the artists behind the films in the "Beyond Animation" series use a variety of techniques. These range from digital matte paintings and cross-fading, as employed by Jeremy Blake in his "Winchester" trilogy about the eponymous arms manufacturer's legendary estate, to stop-motion, as in Joana Silva's "Lemon Tree", in which a reconstructed model of a home is altered until a menacing ambiguity is felt. In Marie-Hélène Turcotte's "The Formation of Clouds", shimmering strokes of a pen illustrate how a girl gradually outgrows her home without realising it. In "Limits of Vision" by Laura Harrison, the hallucinatory and intoxicating images of a housewife grapple with "home" as an ambiguous place of female self-determination and gleefully comb conventional associations against the grain. "The architecture of 'home' is not functional but emotional," André Eckhardt concludes. "It is built upon imagination, luck and misfortune."
The entire "Animation Perspectives" and "Beyond Animation" selection of films can be found in the PDF file of the press release (see above)