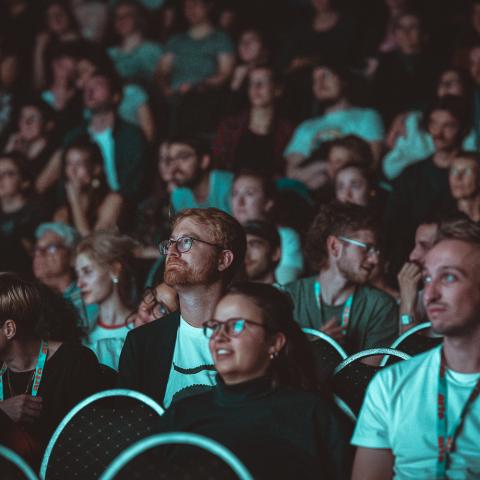 Susann Bargas Gomez
The 66th edition of DOK Leipzig came to a close on Sunday, 15 October. The Golden and Silver Doves as well as the partnership awards were presented in two award ceremonies on Saturday. In total, the festival counted 45,500 attendees at its cinema screenings, panel discussions, industry events and the DOK Neuland XR exhibition. From 8 to 15 October, audiences had the opportunity to see 225 films and XR works from around 60 countries in venues around Leipzig. In addition, one film a day was available online for 24 hours throughout Germany in the DOK Stream.
The films in the Audience Competition and the opening film, "White Angel – The End of Marinka", which opens in cinemas across Germany on 19 October, were particularly well received. Audiences were also very enthusiastic about the short films in the International Competitions and the Animation Night with Tess Martin. The Animation Perspectives section as well as both matinees related to the theme of the Retrospective "Film and Protest – Popular Uprisings in the Cold War" were filled to capacity.
The free screenings at the main station attracted more than 2,000 people. DOK Neuland was also at capacity. About 1,000 people came to see the exhibition of immersive XR works at the Museum der bildenden Künste.
Festival director Christoph Terhechte looked back upon an eventful and intense festival week: "The cinemas were packed, and there were many excellent discussions about film in which the audience was very involved. Although the week was overshadowed by the recent massacres, expulsions and bombings in Israel and Palestine, Nagorno-Karabakh and Ukraine, many of our attendees used the festival as an opportunity to exchange views on those issues and current events."
The DOK Industry events also met with great interest. At the second edition of the DOK Archive Market, more international archives and footage libraries introduced their collections than in the previous year. All in all, DOK Industry welcomed more than 1,700 accredited professionals.
During the week of the festival, 24 awards were presented, including the nine Golden and Silver Doves. The 10,000-euro Golden Dove Feature-Length Film in the International Competition Documentary Film went to Peter Mettler for his documentary "While the Green Grass Grows" (Switzerland, Canada). The newly created Golden Dove for a feature-length animated film went to Xu Jingwei for "No Changes Have Taken in Our Life" (China).
The 67th edition of DOK Leipzig will take place from 28 October to 3 November 2024.