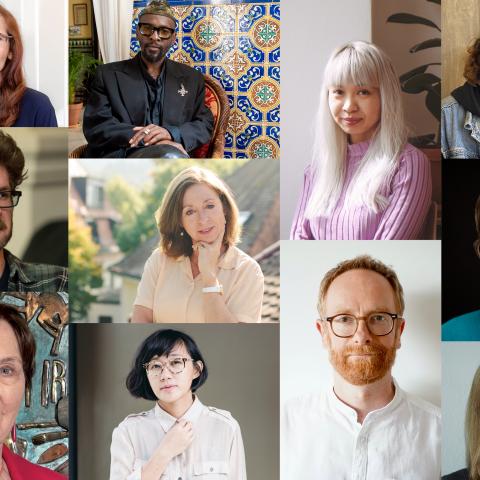 Three juries, each comprised of distinguished professionals from the world of film and the arts, along with an audience jury, will be in charge of awarding prizes in the competitions for short and long animated films and documentaries at the 65th edition of DOK Leipzig. The 2022 jury for the International Competition Long Documentary and Animated Film is comprised of Philippa Kowarsky, Lemohang Jeremiah Mosese, Shireen Seno, Ula Stöckl and Andrei Tănăsescu. These five jury members will choose from among 13 nominated documentary works to award one film with a Golden Dove and one film with a Silver Dove.
These jury members represent diverse perspectives on contemporary international documentary filmmaking. Film and television producer Philippa Kowarsky, who founded Cinephil Ltd. in Tel Aviv, has overseen numerous Israeli and international documentaries, including the Oscar-nominated film "The Gatekeepers" from 2013. The self-taught video and film artist Lemohang Jeremiah Mosese, who hails from Lesotho, has presented such works as "Mother, I Am Suffocating. This Is My Last Film About You" (2019) at the Berlinale Forum and the Museum of Modern Art in New York.
The video and film artist Shireen Seno, born in Japan, runs the film workshop Los Otros in Manila with John Torres. She presented her short film "To Pick a Flower" at DOK Leipzig in 2021 and will soon be residing in the German capital as a film fellow on the DAAD Artists-in-Berlin Program. Director Ula Stöckl created feminist classics of German film history, including "The Cat Has Nine Lives" (1968), spent twenty years on the selection committee at the Berlinale and gives lectures as a professor of Film Studies at the University of Central Florida in Orlando in the United States. The Romanian-Canadian curator and film scholar Andrei Tănăsescu presented a visual history of the Romanian nation in 2019 in a film series titled "Videograms of a Nation"; he is involved in film festivals in Venice, Basel and Bucharest.
The jury for the International Competition Short Documentary and Animated Film will review 24 nominated works and award two Golden Doves, each for the best film in the two genres, as well as a Silver Dove for the best film by an up-and-coming director. The jury consists of Czech-Vietnamese director Diana Cam Van Nguyen (Silver Dove for "Love, Dad", DOK Leipzig 2021), documentary filmmaker and film editor Rocco Di Mento and Slovenian producer and professor Tina Smrekar, who is responsible for such works as "Boles" (Golden Dove, DOK Leipzig 2013) by animation artist Špela Čadež (guest speaker at a master class in 2022).
The jury for the German Competition awards a Golden Dove for a feature-length documentary and a Silver Dove for a short animation or documentary film. Andreas Kötzing, Sabine Rollberg and Marie Wilke are judging the nine long and nine short film productions from Germany.
Andreas Kötzing is a researcher at the Hannah Arendt Institute in Dresden and a lecturer at the University of Leipzig on the history of German culture, media and film censorship as well as on the culture of remembrance after 1989/1990. Sabine Rollberg, who holds a doctorate in Literature and was awarded the Grimme-Preis and Federal Film Award, worked in public television (WDR, ARTE, ARD) for over forty years and has been teaching journalism and documentary film at the Albert-Ludwigs-Universität in Freiburg since entering retirement. Writer-director Marie Wilke presented her second feature-length documentary, "Aggregate", at the Berlinale Forum in 2018, taught directing at the Film University Babelsberg KONRAD WOLF and was artistic director of the German Film and Television Academy Berlin in 2021/2022.
Film buffs and long-time festivalgoers once again have the opportunity to be on the jury for the Competitions for the Audience Award. David Chazarenc, Margherita Gallano, Erik Laube, Paula Mecklenburg, Annegret Meder, Christian Pauli and Barbara Tennstedt are representing the DOK Leipzig audience as jury members this year. They will award a Golden Dove to a long film and a Silver Dove to a short animation or documentary film. Nine long and ten short works have been nominated in these two competitions.
The Golden and Silver Doves will be presented to the winning films on the Saturday of the festival, 22 October 2022, at 7 pm at the Schaubühne Lindenfels in Leipzig's West End.
 
Overview of all jury members at DOK Leipzig 2022: Awards & Jurys