DOK Exchange XR 2023
TIME MACHINE MAIDAN
default
About
(hybrid, immersive documentary)
Time jumps from the present to 2013, to become a participant of Maidan. Through the first person point of view, the audience will experience the journey from peaceful million-strong march and campfire-barrel songs to the mass shooting of protesters on the streets of Kyiv.
Themes
street protests, human rights, collective memory, Maidan
Project Representatives
Volodymyr Tykhyi
Ukraine
Co-founder and head of Babylon'13, a group of independent filmmakers established in 2013. Volodymyr Tykhyi is the author, director and co-producer of the project "Mudaky" (Fuckers, Arabesques) and of the "Ukraine, Goodbye!" almanac of short films. He participated in the Berlinale and Clermont Ferrand 2013, won a Silver Leopard at Locarno IFF 2012, and was a nominee for European Academy Award. 
In 2013 he finished his film "The Green Jacket", which was in competition at San Sebastian IFF, Warsaw IFF and Tbilisi IFF. "Brama" (The Gateway) (2017) and "Lethal Kittens" (2020) became significant events in Ukrainian cinemas.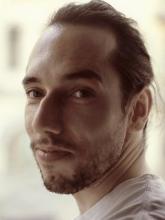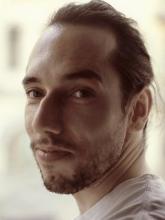 Roman Liubyi
Ukraine
Since 2013, Roman Liubyi has been working as Babylon'13 project participant within which he worked on documentaries commissioned by CNN, 1 + 1, Al Jazeera America. As a film editor he worked on feature films "10 Seconds by Yulia Gontaruk" (Matrosov Prize at the 13th Docudays UA) and "Hunger for Truth" by Andriy Tkach (Special Award at the USA Film Festival 2018). He was a guest video designer of the play "Counting Sheep", the headliner of Vaults, London's largest performing arts festival.
Selected filmography:
2020: "War_note" (Audience Award at Docudays UA)
2023: "Iron Butterflies" (Sundance, Berlinale, Karlovy Vary, Movies That Matter, Docudays UA)
Credits
Creators:
Volodymyr Tykhyi, Roman Liubiy
Producers:
Andrii Kotliar / Babylon'13
General Information
Languages:
Ukrainian, English, Russian
Funded by the European Union. Views and opinions expressed are however those of the author(s) only and do not necessarily reflect those of the European Union or the MEDIA sub-programme of Creative Europe. Neither the European Union nor the granting authority can be held responsible for them.
DOK Exchange XR 2023