DOK Co-Pro Market
default
The DOK Co-Pro Market is going hybrid this year! You have a documentary project in development and are looking for co-producers and co-financiers? Our call for project submissions is now open.
While the past year has brought a major disruption to our industry's ways to meet and connect, we are looking confidently into the future and are positive to be able to meet in person soon again. The DOK Co-Pro Market 2021 is planned as a hybrid event with individual meetings and networking opportunities taking place in Leipzig as well as online.
35 projects in development or early stages of production will get together on 25 & 26 October 2021 to meet with potential co-producers, co-financiers, broadcasters, funds, distributors and sales representatives in over 850 individual meetings. The goal is to expand networks, create fruitful opportunities to finance new creative documentaries and face together the radical challenges that have presented themselves this past year.
Call for Projects 2021
We are happy to launch the call for projects for the 17th edition of our DOK Co-Pro Market!
This is what we are looking for at a glance:
ambitious, creative documentary projects from all over the world
projects in development or early stages of production
feature-length documentaries suitable for theatrical release, however one-offs and series are also welcome to apply
documentaries with an international audience in mind
The deadline for submissions is 2 August 2021.
Please find more information on the event and how to submit in the Submission Guidelines.
You find the submission form in our myDOK area, please log into your account or register for a new account here.
DOK Co-Pro Market Coordinator
Ulrike Schmidt
u [dot] schmidt [at] dok-leipzig [dot] de
+49 (0)341 30864-1081
DOK Co-Pro Market 2021
Save the date!
blue
Call for DOK Co-Pro Market Projects
Submission Deadline for DOK Co-Pro Market Projects
DOK Co-Pro Market Projects 2020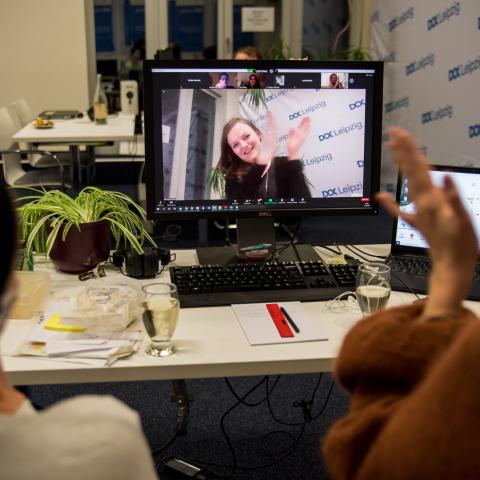 Susann Jehnichen
Filmmakers awarded at DOK Co-Pro Market 2020
Two prizes have been awarded to new documentary projects participating in the 16th DOK Co-Pro Market.
The Development Prize for the Best Female Director
by the Saxon State Minister for the Arts was awarded at our virtual opening event on 26 October. The 5,000-euro prize presented by State Minister Barbara Klepsch went to director Fan Wu who received the award for the film project XiXi (Taiwan, Philippines). A jury had decided in advance which film project would receive the award. Projects selected for the DOK Co-Pro Market were eligible. A Special Mention went to Andra Popescu, director of Bright Future.
Zonta Club Leipzig-Elster
has awarded its Talent Development Prize of up to with 1,000 € to cover the travel and accommodation of one participating female producer, in this case Jenifer de la Rosa with her project The Daughter of the Vulcano.
We congratulate all winners, thank our award partners and look forward to the further development of all the outstanding participating film projects. 
DOK Industry Programme is co-funded and supported by the Creative Europe MEDIA Programme of the European Union.