Secret Agent Avi. Christoph Terhechte in Conversation with Avi Mograbi
small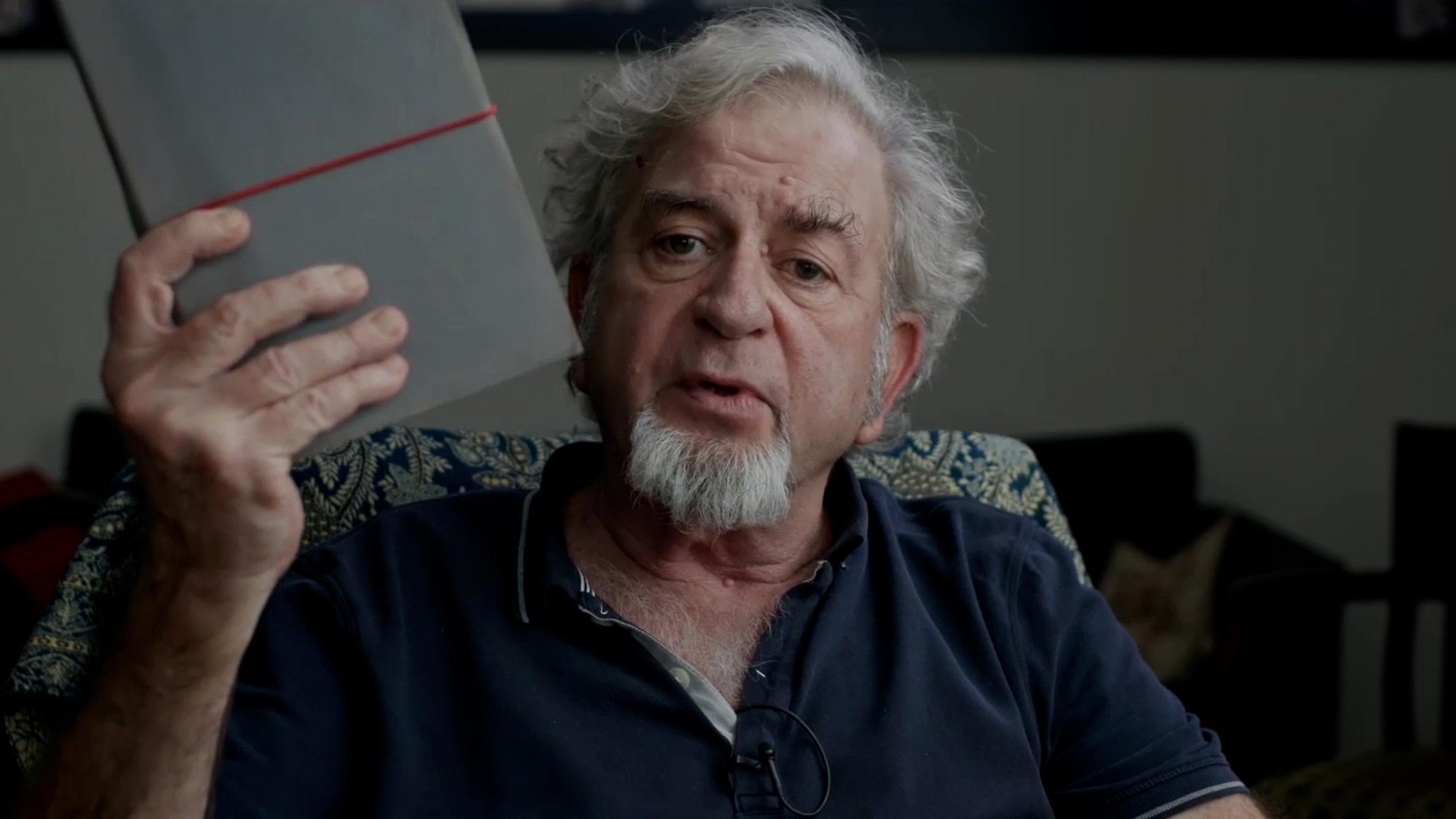 "In my first three films I was like secret agent Avi. I was a one-man band shooting myself, editing and also playing in the film."
Avi Mograbi and Christoph Terhechte talk about failed and felicitous films, about assigned and devolved characters – and about moral. The conversation took place on October 9, 2015, at the Akademie der Künste der Welt in Cologne.
CT: Your first feature-length documentary "How I Learned to Overcome My Fear and Love Arik Sharon" was a film about a filmmaker who makes a film. It is a genre that others have worked in, but you seem to be the world champion of this particular subgenre in documentary filmmaking. What exactly do you find so fascinating in this approach? I couldn't really say where fiction begins here and where documentary ends. It all becomes one in a way.
First of all, this was not a concept. It was born out of necessity. Then from one film to the other it started to make sense and became an interesting way to tell stories or to give them a larger scope. It was born with How I Learned to Overcome My Fear and Love Arik Sharon. This film was a total failure. I went out to make a harsh political road movie following Mr. Sharon during an election campaign – and that film failed. I was hoping to capture some truth about Mr. Sharon during this month that I followed him. Sharon was of course much too smart to allow the truth that I was looking for to be exposed. So I ended up with no film. At least at a certain moment very close to the end of the shooting I understood that there was maybe another story there, the story of the filmmaker, of his failure and how sometimes people with charisma can make you forget your ethics, forget what you wanted to say.
Years later I also understood how the story of the leftist filmmaker that loses his politics, his political incentives, is also the story of the Israeli left. This was the first time that I put myself in front of the camera telling the story of the making of the film and how me, the filmmaker lost his political conscience and eventually lost his wife, because the wife remains the moral backbone, and she leaves him because of his loss of consciousness. I didn't know then that this was going to be an ongoing storytelling device. It was only when I made the following film that I suddenly thought it was quite successful the previous time, maybe this device also can be improved and become more complex. This is how Happy Birthday Mr. Mograbi happened. But the truth is that after I made the third film with this device, August, I realized that I got tired of myself.
CT: And you changed the way that you present yourself in the films. In the first two or three you're speaking directly into the camera, and then it becomes more of a dialog like in the short film "Wait, It's the Soldiers, I'll Hang up Now" much of which is a phone conversation with Georges Khleifi. In "Once I Entered a Garden" you're doing this even more. It becomes a film more about the other than about yourself: Ali turns into the main character of the film.
One of the spectators of this film in East Jerusalem jokingly said that Ali actually hijacked the film. He was referring to the Palestinian plane hijackings of the 70's. Of course Ali hijacked the film, but I knew that when I decided to join forces with Ali. I had known him for 30 years, so it was no surprise, I deliberately put myself in his hands. We had no script, we had only a moment to begin with, when I showed him the pictures of my family. From then on things started to flow in a spontaneous way, as with the arrival of Yasmin. I knew how the presence of Yasmin would be symbolic and help the subject matter. But she was not invited into the film, she entered the film by herself. I was not manipulating her into the film. She wanted to join us. In my first three films I was like secret agent Avi. I was a one-man band shooting myself, editing and also playing in the film. But I also really felt like a secret agent! If someone would ask me "Are you making a new film?" I would say "No, not at all!", even when I was halfway through the editing already. And then in Avenge But One of My Two Eyes and the following films I opened up and allowed people to enter and intervene and lead. The most extreme example is Ali because of his personality. But there are many other collaborators in this film. Some of them are not named, but you know the super-8 letters where shot in Beirut, a place that obviously I cannot go to, and the person who shot those letters, he took his own decision. I briefed him, but I didn't tell him what to shoot. I told him the story of my family, I told him the story of the film as much as I could, and he made his decisions.
I would normally think that shooting flowers for three minutes is very boring. I wouldn't dare do it. But this person took a different decision. And then something amazing happened with those letters: about 95 per cent of what was shot is in the film, which is an unprecedented ratio, definitely for a documentary! Many people were also involved in the writing of the letters, the texts. A Jewish Lebanese friend who lives in Paris has brought a lot of stories. I could never have written like this in French, and definitely not in Jewish Lebanese French. There were many hands there, which is something that in the past I couldn't imagine to allow. So my work has changed a lot. Take the collaboration since Z32 with composer Noam Enbar. It's a film where I don't speak to the camera, but I sing to the camera with an eight-piece orchestra in my living room. In this film Noam had total freedom. He decided on the places where he thought music was needed, what kind of music and the orchestration etc. It's not that I didn't say anything, but it was more of a collaboration than him doing a job for me.
Filmästhetik
CT: The aesthetics in your films have also changed a lot from "How I Learned to Overcome My Fear and Love Arik Sharon" to "Once I Entered a Garden".
Of course we should mention Philippe Bellaïche, the cameraman, we are now finishing our fourth film together. There's something very special that happens in Once I Entered a Garden where there are two scenes where he is present shooting and participating and I'm not there. Normally it doesn't happen that the cameraman is participating in a film and is leading it. Something in the method has changed and allowed a lot of openness and invited intervention by others.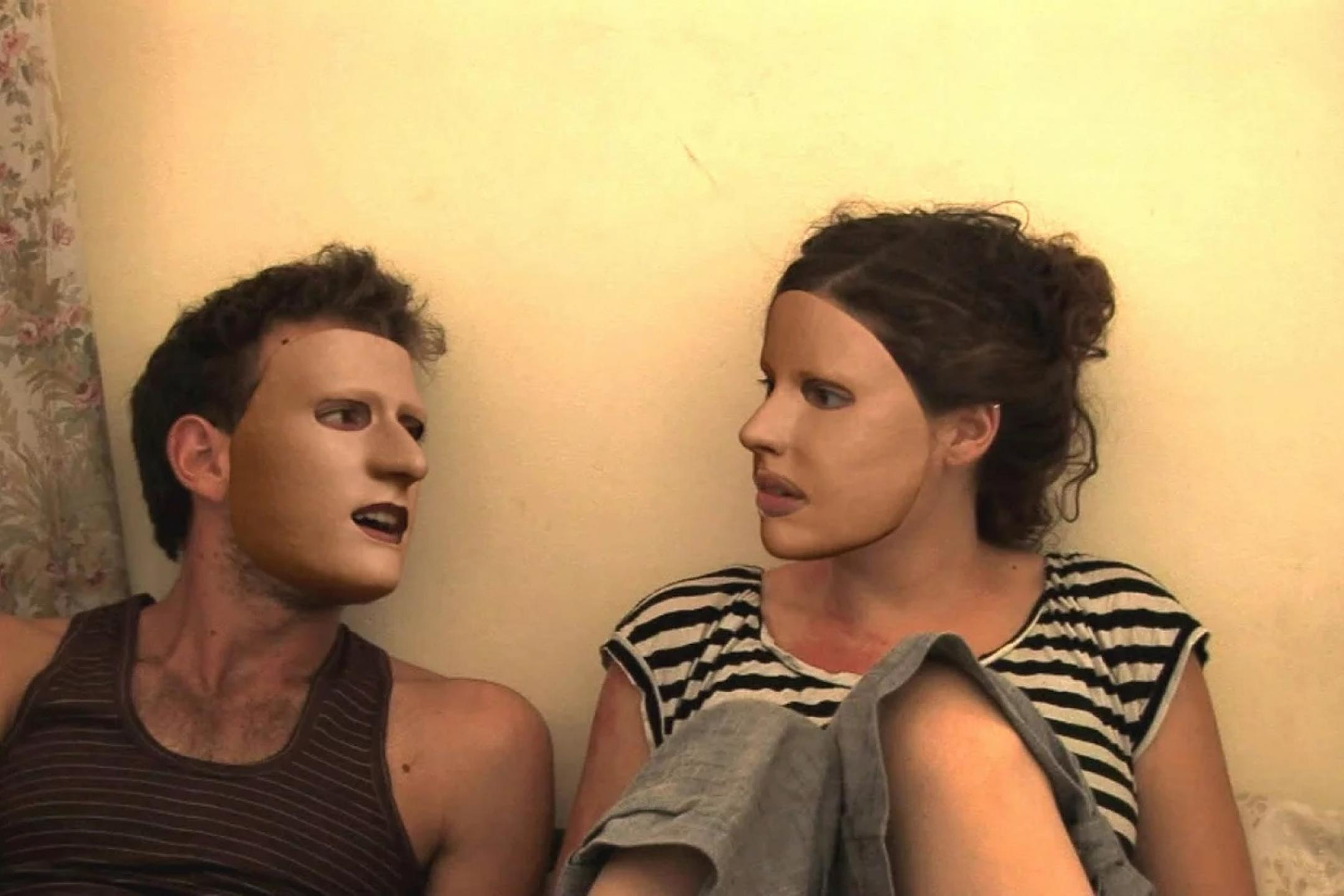 CT: The early films in many ways show an ugly side of society. Did you decide then that you should not aestheticize what you're showing, that you would deliberately make it as rough and ugly as possible?
Thank you, Christoph, that's a great compliment! (Laughing) First of all, I'm a terrible cameraman …
CT: I'm not referring to your camera style, I'm thinking of the choice of things you show. For example, in "How I Learned to Overcome My Fear and Love Arik Sharon" there's this right wing band in the end of the film, and you decide to shout along rather than sing along. There's also a moment with a very rough juxtaposition of the ruins of a mosque in a former Palestinian village, and then a monstrous villa you see right afterwards. You don't know whom it belongs to, but the way you edit these two shots together is very drastic. That's something you don't see any more in your later films like "Once I Entered a Garden".
Then I agree. Definitely in the first three films – August is a very rough film too – I was very angry. Although it's all full of humour, and you can't watch those first three films without laughing. They're full of dark humour, definitely very funny. I think that I was busy trying to portray how I felt about where I live. Maybe the most extreme is August. It's a film about street fights. Neglectable street fights. Nothing important to fight over. Just for the sake of a fight. It's a film that tries to portrait Israel through my eyes. The incentive of these films was a lot of anger and frustration and the inability to be involved in change.
Once I Entered a Garden is maybe the first film that didn't start from anger. Even Z32 and Avenge But One of My Two Eyes are films where there's a lot of frustration, but this film has no frustration whatsoever. It started from a different place. It started from friendship, from love, from longing for a reality that I never experienced, from the openness of letting another person tell the story, unlike in previous films where I told other people's stories. Another person is there to tell his story and of course mine.
CT: Thus you were able to abandon the character you played in previous films, the "Lieutenant Columbo" of filmmaking so to speak. There were moments in those films where you almost explode. In "Avenge But One of My Two Eyes" there is this scene where you yell at Israeli soldiers who are not allowing Palestinian school children to walk back home after school. You are getting visibly angry in front of the camera. It looks genuine, not something you had planned as a provocation.
It's absolutely genuine anger, but full of awareness. I knew that I was carrying a camera with me and that the camera was running.
CT: But you allowed yourself to get out of character in that moment.
It's happening to us all the time. When we fight with our partners, it's a genuine fight, but it's also a negotiation, it's also a little bit of a play. But yes, I have my moments where I lose my politeness, to say it in a mild way. The scene at the end of Avenge But One of My Two Eyes is probably the hardest to watch for me of all the scenes in my films, because I am really ugly there.
I think that what I did there, shouting at the soldiers and using foul language, was perfectly okay, it was the right thing to do. It was moral, human, but I can't stand the person who loses his control like this, because it's me. You don't want to see yourself in this human ugliness, even it comes from the right place and is what humans should do when they meet atrocities.
CT: Special effects are something you have used in your documentaries, although they are usually associated with the realm of fiction. In "August" you are playing yourself, your wife and your producer, and you have a split-screen technique that allows you play all three in the same scene. In "Z32" out of necessity you had to manipulate the faces of the witnesses. The way it's done look kind of scary, a bit like Georges Franju's "Les yeux sans visage" …
I saw this film in preparation for Z32, and I decided that I wanted a different solution. Yes, it's a very scary film.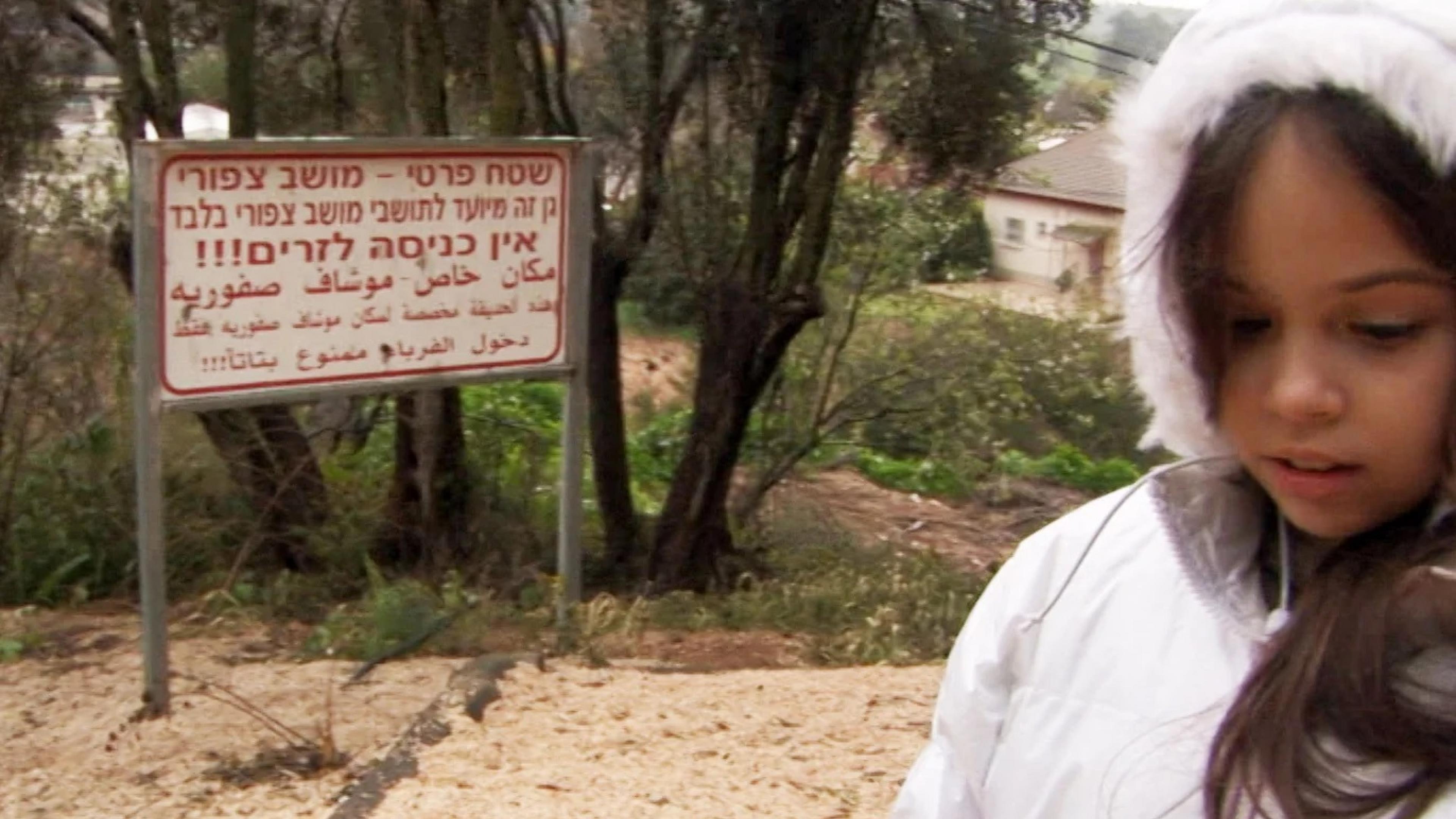 CT: The manipulation of the faces adds to the horror. It's not just in what is being said in the films, but also visually present. In "Once I Entered a Garden" the scene in the playground where Yasmin discovers that atrocious sign also has an element of a horror film, it seems to be a haunted place. The terror in the feelings of Yasmin going there, running away, coming back and trying to do something about it is something that you see in horror films. That's another element of narrative cinema in your documentary work.
This scene is not staged at all. The horror there, and I agree that it is horror, is the horror of Yasmin who is ten years old. She lived a complicated life, but in a calm atmosphere. You know mixed children in Israel sometimes have a terrible childhood. Mostly because of their Palestinian side, because the Jewish side doesn't accept the Palestinian side.
Yasmin's parents succeeded very well in not turning her life into something horrific. But what happens in this scene is that suddenly this plate, this sign is in her face. All her torn identity is there. She comes from the community that has written the sign, but the sign is also addressed to her. What can a child do but try to dig it out? It's of course an effort she can never succeed in. It's a very different kind of horror, it's a realization of what her identity is about.
CT: There's a scene where Yasmin is afraid to be caught by someone, and she says "Oh no, the locals have spotted us!" That's something that occurs a lot of times in your films: You're filming, people don't want to be filmed, you're afraid to be caught because you have the camera, they're afraid to be caught on camera. It is as if there is some kind of bad conscience on both sides, on the side of those being filmed and the side of the one who films. Would you say that is typical of a society in conflict, or how do you explain this constant negotiation about the presence of the camera?
This effort of passers-by who become suspicious of the camera to try and not be recorded – which is of course making sure that you are indeed recorded – is most evident in August, the street fight film. It's not that I ever thought that Israel is a calm place where people like each other and hug each other in the street and there is peace and love and understanding. I didn't go out to make another "Woodstock" film. I was looking for violence there in the streets. But I didn't think that the violence would occur here, between the lens and the person closest to it. I thought I would see some violence in the distance and be able to zoom in and capture it. Because there is a lot of violence in Israel.
In the film that I made two years earlier only, Happy Birthday Mr. Mograbi people were very welcoming to the camera. In August I suddenly discovered that the mechanism of the camera means bad news, as if it's by nature a carrier of – like you said before – ugly moments or ugly scenes. I don't think that the people that opposed my filming had seen my cinema or recognized me, but somehow the camera itself became an enemy.
CT: One of the first scenes in "August" is a drunken person, and you film this person. Which is a tricky question for a documentary filmmaker. Do you have the right to film someone who is basically helpless? The way you act in your early films also transgresses certain borders. You seem to be trying to step over certain lines.
If there's anything that I regret having shot it's the drunken guy or junkie in the street in August. So why did I put it in the film? Well, it took me years to understand what I did. It's impossible to cut it out now, the film exists, it's out of the question. But now it's very painful. When I watch it it's like a mark of Cain, it's a reminder that I'm also involved in the abuse. Which is something that happens in August anyway. It's pushing the borders, and then you cross them sometimes. It's a reminder for me that it's not only them who are participating in the abuse, I'm a good abuser myself.
CT: "Once I Entered a Garden" begins with the photos of your father which you're showing to Ali. Your father is holding what appears to be a gun, and there is an Arab holding an unexplained number sign. These photos contain a huge fiction in themselves which you are interpreting. Ali doesn't even dare to interpret them, he's withholding. But there's an incredible story these three photographs tell. How long have you been contemplating this story? Is there anything that we miss when looking at them?
Although I must have seen these photographs dozens of times when I was a child they were not engraved in my memory. I rediscovered them about a year before I started to make this film, when I was sent by the Lebanese artist Akram Zaatari – we were going to do a performance together – to my mother's to look into her photo albums. Then I suddenly discovered those photographs and was somewhat shocked. Not because of the real story behind them, but because of their Nakba-ish nature, even if they were completely disconnected from the Nakba. I believe I know what the story of the Palestinian in the photo is. There was a moment after the state of Israel was founded when the Palestinians who stayed in 1948 became Israeli citizens and they needed IDs. And so people from the "Ministry of minorities" where my father worked at the time went out to collect photographs, and the numbers are probably the ID numbers or an archival identification number.
I think that this is the real story behind it, but again it's a fictionalization because I don't know, nobody can tell me. My mother didn't remember at the time, and now she even remembers less. Normally the Nakba, the Palestinian catastrophe, the expulsion and the killing of Palestinians during 1948, is something that you know but that is not part of you. You sympathize and you may think whatever you want, you say 'we' did it, but you know you didn't really do it, someone else did. And suddenly there is a picture of my father in a Nakba-ish scene. This is shocking, for me it's shocking. It brings it so close to home. My father was very right wing, I'm sure he didn't have any problem with that. But for me it brought it so close to home that it was a shocking moment to discover it.
CT: Is the fact that you present them in your film is somehow a justification of the way you make films?
CT: In that you somehow make up for what your father did by making films that show a different aspect of society.
My films are in a way a rebellion against my father. Now that he is dead already thirty years, I'm very sad that he never had the chance to see any of my films. He never saw one frame of motion picture that I shot. It's very sad, it would have been very interesting to continue this rough relationship. On the other hand, maybe if he lived I wouldn't make any films. (Laughing) He was a cinema owner, he would have banned me, thrown me down the stairs!