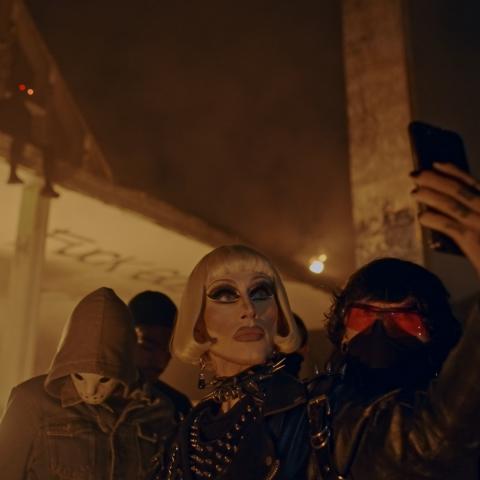 The awards of the 65th edition of DOK Leipzig were presented on Saturday at the Schaubühne Lindenfels in Leipzig. Following the week-long festival, a selection of the award-winning films will be shown online throughout Germany in the DOK Stream from 24 to 30 October.
The Golden Dove in the International Competition went to Theo Montoya for "Anhell69". This co-production from Colombia, Romania, France and Germany portrays a queer young generation in a Colombia marked by violence and repression, in a very real ghost story told in atmospheric images. "A cinematic slipstream of consciousness fuelled by human nature's pleasure and death drives" is what the jury called it, adding: "An ode to an ill-fated city and a tribute to one's community, it harnesses the power of resilience and transgression to inhabit the world with fluidity, fearlessness and radical urgency." The award-winning long films in the International Competition were chosen by Philippa Kowarsky, Lemohang Jeremiah Mosese, Shireen Seno, Ula Stöckl and Andrei Tănăsescu. The 10,000-euro Golden Dove is sponsored by Mitteldeutscher Rundfunk. The award was presented by Jana Brandt, Director of the MDR Programme Directorate Halle.
The Silver Dove for best long documentary or animated film by an up-and-coming director in the International Competition was awarded to Faustine Cros for the Belgian-French production "A Life Like Any Other", a portrait of a woman at odds with her role as a mother and the demands of motherhood. "In seeking to understand a family's pain, this film gives voice to the primal scream of women, wives, and mothers everywhere," the jury stated. The 6,000-euro award was sponsored by 3sat. Johannes Dicke, Head of Programming at 3sat, presented the award to the filmmaker.
In the International Competition Short Film, Diana Cam Van Nguyen, Rocco Di Mento and Tina Smrekar chose the recipients of the Golden Doves, each worth 3,000 euros, and the newly created Silver Dove, worth 1,500 euros. "Will You Look at Me" by Shuli Huang was honoured as best documentary film. This film shows how the queer filmmaker's lifestyle collides with the expectations held by his mother and by Chinese society. The award for best animated film went to Marta Magnuska for "Misaligned", which depicts scenes of a marriage as a minimalist, vibrating black-and-white animation.
The Silver Dove for the best short documentary or animated film by an up-and-coming director, sponsored by the Sächsische Landesanstalt für privaten Rundfunk und neue Medien (Saxon State Institute for Private Broadcasting and New Media, SLM), was awarded to the South Korean animated film "Persona" by Sujin Moon about beauty ideals and the compulsion to fit in. The President of the Medienrat SLM, Prof. Markus Heinker, delivered welcoming remarks in person at the award ceremony.
The films that have earned Golden Doves in the International Competitions Long and Short Film qualify for nomination for the annual Academy Awards®, provided they meet the Academy's standards. The winners in the International Competitions were chosen by Philippa Kowarsky, Lemohang Jeremiah Mosese, Shireen Seno, Ula Stöckl and Andrei Tănăsescu. Special Mentions from the jury went to Matthias Joulaud and Lucien Roux for their short documentary "Ramboy" and Sasha Kulak for the long documentary "A Hawk as Big as a Horse".
In the German Competition, filmmaker Sönje Storm was awarded the Golden Dove (3,000 euros) for "Dead Birds Flying High". In this documentary, Storm goes through old boxes left behind by her great-grandfather, Jürgen Friedrich Mahrt. This farmer and naturalist documented the local flora and fauna with the aid of photography and taxidermy and thus already observed the extinction of species as well as harbingers of today's climate crisis in the early 20th century. "Image composition, sound design and editing merge into a coherent work of art that reflects both the dramatic changes in nature and the fatal influence of humans on their environment," said the jury members Andreas Kötzing, Sabine Rollberg and Marie Wilke.
The Silver Dove in the German Competition Short Film, which includes prize money of 1,500 euros and is sponsored by IG Metall Leipzig, went to Jonathan Brunner for "Border Conversations", a film that follows Polish activists in the border region between Belarus and Poland in the winter of 2021.
In the Competition for the Audience Award, the Golden Dove including 3,000 euros went to "Three Women" by Maksym Melnyk. In encounters with three independent women, Melnyk documents rural life in the Ukrainian village of Stuzhytsya near the EU border. "This film brings us images of joie de vivre and lightness. Images that we don't often see coming from that country at the moment. It creates connections and unites people through the screen," according to the statement by the audience jury.
The Silver Dove was awarded to Olesya Shchukina for the Russian-French production "Lada, Ivan's Sister". This animated documentary tells of the transition of a woman who was born a biological male. The award, which includes 1,500 euros, was sponsored by the Leipziger Gesellschaft zur Förderung der Filmkunst e.V. At the award ceremony, the association was represented by Christiane Wilhelm, who delivered remarks to the audience.
This year's audience jury was comprised of film enthusiasts and friends of the festival David Chazarenc, Margherita Gallano, Erik Laube, Paula Mecklenburg, Annegret Meder and Barbara Tennstedt.
Partnership Awards for documentary and animated films in competition
Earlier, on Saturday afternoon, nine Partnership Awards were presented at the Schaubühne Lindenfels.
The DEFA Sponsoring Prize, which includes 4,000 euros granted by the DEFA Foundation, went to Maksym Melnyk for "Three Women".
The 3,000-euro MDR Film Prize for an outstanding eastern European documentary film was awarded to Marek Kozakiewicz for "Silent Love". This film tells the story of a woman who attempts to obtain custody of her brother in a conservative part of Poland and to live with her partner in an alternative family arrangement.
The Film Prize Leipziger Ring honours a documentary film about human rights, democracy or civil engagement, is granted by Stiftung Friedliche Revolution (Foundation of the Peaceful Revolution) and comes with 2,500 euros in prize money. This year's award went to "Pastor Lothar Stops", Tilman König's documentary about his father, the former Jena pastor and left-wing activist Lothar König.
"Pastor Lothar Stops" also received the ver.di Prize for Solidarity, Humanity and Fairness, which includes 1,500 euros in prize money.
The 2,000-euro Young Eyes Film Award, granted by Leipziger Stadtbau AG, went to "Blue Sky White Clouds" by Astrid Menzel. In this film, the director takes her grandmother, who suffers from dementia, on a canoe trip in northern Germany. The prize was awarded by the Youth Jury in cooperation with Filmschule Leipzig e.V.
The 1,750-euro Prize of the Interreligious Jury was awarded to "A Life Like Any Other" by Faustine Cros. The award is granted by the Interreligiöser Runder Tisch Leipzig, the Oratorium zu Leipzig and VCH-Hotels Deutschland GmbH – im Verband Christlicher Hoteliers e.V., including Hotel MICHAELIS Leipzig.
The Prize of the International Film Critics (FIPRESCI Prize) was awarded to "One Mother" by Mickaël Bandela, an autobiographical and visually ingenious study of growing up in a foster family. 
The mephisto 97.6 Award went to "Sliver Cave" by Caibei Cai. In this short film, bizarre animations on a metal plate are set to free jazz.
The Gedanken-Aufschluss award went to "Yonii" by Julius Gintaras Blum, a portrait of a Swabian-Moroccan actor and rapper. The prize is awarded by a jury of prisoners at the Juvenile Detention Centre Regis-Breitingen.
Awards presented at DOK Industry
Six awards have already been presented during the week of the festival as part of the industry platform DOK Industry.
Awarded in the DOK Co-Pro Market:
Saxon Award for the Best Documentary Project by a Female Director (along with 5,000 euros): "A Bit of a Stranger" by Svitlana Lishchynska (Ukraine)
The prize is donated by the Saxon State Ministry for Science, Culture and Tourism.
Current Time TV Award (along with 1,500 euros): "Blum" by Jasmila Žbanić (Bosnia & Herzegovina, Croatia, Germany)
The prize is donated by Current Time TV.
The EWA Diverse Voices Award (along with 1,000 euros, a year-long mentorship by DOK Leipzig and an EWA membership): "In the Light of Darkness" (India)
The prize is donated by EWA – European Women's Audiovisual Network
The Unifrance Doc Award (along with subtitling services sponsored by TitraFilm and a Unifrance membership for its French producer): "Under the Dance Floor" by Sára Timár (Hungary, France)
Awarded at DOK Preview Germany:
D-Facto Motion Works-in-Progress Prize (post-production grant of 10,000 euros): "300 Trillion" by Rudolph Herzog (Germany)
The prize is donated by D-Facto Motion GmbH.
Awarded at DOK Short n' Sweet:
Square Eyes Festival Consultation Award (along with a tailor-made consultation on festival strategy by Square Eyes): "The Art of Detaching One's Memory" by Jan Carlo Natividad (Philippines)
The prize is donated by Square Eyes.
A total of 24 prizes were awarded at DOK Leipzig. During the festival week, 255 films and extended reality works from 55 countries were screened in the Leipzig venues.
After the festival ends, eleven award-winning films can still be seen online throughout Germany in DOK Stream from 24 October to 30 October 2022, including six recipients of Golden and Silver Doves. The films in DOK Stream are "Dead Birds Flying High", "A Hawk as Big as a Horse", "One Mother", "Three Women", "Silent Love", "Misaligned", "Sliver Cave", "Border Conversations", "Lada, Ivan's Sister", "Will You Look at Me" and "Yonii". Online ticket sales will start at 10 am on Monday, 24 October. The ticket price per long film or short film reel is 5 euros.
The award-winning film in the International Competition, "Anhell69", will be released in cinemas across Germany in 2023.
 
Please find details about the award-winning films here: Programme & Tickets
Information about all of DOK Leipzig's juries can be found here: Awards & Juries
All of the jury statements and awards, including special mentions, can be found in the attachment.