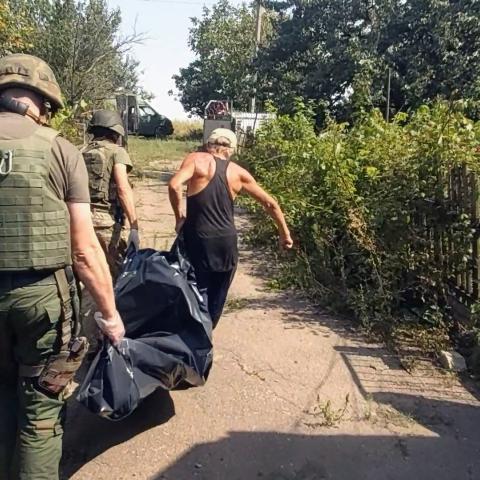 The 66th edition of the DOK Leipzig film festival will open on 8 October 2023 with the world premiere of Arndt Ginzel's documentary "White Angel – The End of Marinka".
This film documents evacuation and rescue operations in the small town of Marinka in the Donetsk region from the spring to the autumn of 2022. The impressive close-up footage of the operations is from a GoPro camera worn by police officers who repeatedly drive around the town in a white van which the civilians call the "White Angel". In the spring of 2023, Arndt Ginzel and his team returned to Ukraine and spoke with the rescuers and survivors about their traumatic experiences – and about the demise of their home town, which no longer exists.
"The survivors' testimony speaks of loss, of pain and grief, but also of hopes and dreams," comments festival director Christoph Terhechte. "More than a film about war, 'White Angel – The End of Marinka' is a document of humanity and a longing for peace."
Leipzig journalist Arndt Ginzel has been producing TV documentaries for German public broadcasters ARD and ZDF for many years. Two weeks prior to the Russian invasion, he travelled to Ukraine to shoot reports for German television about the killing of Ukrainian civilians and the abduction of children from Russian-occupied territories. He was in the country at the time of the invasion and reported from there in the weeks that followed. In 2022, he was awarded Netzwerk Recherche's Leuchtturm-Preis (Lighthouse Award) for his war reporting from Ukraine.
Ginzel has done investigative journalism in numerous regions affected by war and other crises. In Syria, for example, he uncovered crimes committed by Russia's Wagner Group. In Croatia, he tracked down a network of arms dealers linked to right-wing extremists of the German political party AfD.
Ginzel became known, among other things, for his research into the "Sachsensumpfaffäre" (Saxony Swamp Affair) which was published in "Der Spiegel" and "Zeit Online" in 2007. For a TV report titled "Spiel im Schatten – Putins unerklärter Krieg gegen den Westen" (Operating in the Shadows – Putin's Undeclared War on the West), he and Markus Weller received the Bavarian Television Award in 2017. That same year, his report "Putins geheimes Netzwerk – Wie Russland den Westen spaltet" (Putin's Secret Network – How Russia Divides the West) was nominated for a German Television Award. In 2019, along with Gerald Gerber, he received the Prize for the Freedom and Future of the Media by the Media Foundation of Sparkasse Leipzig for his research in connection with the Pegida demonstrations in Dresden.
DOK Leipzig will hold its opening in CineStar 4 on Sunday, 8 October 2023 at 7 pm. Film director Arndt Ginzel will be there for a film talk.
"White Angel - The End of Marinka" is a co-production of GKD-Journalisten and the German broadcaster ZDF. "ZDF Frontal" is responsible for the editing.