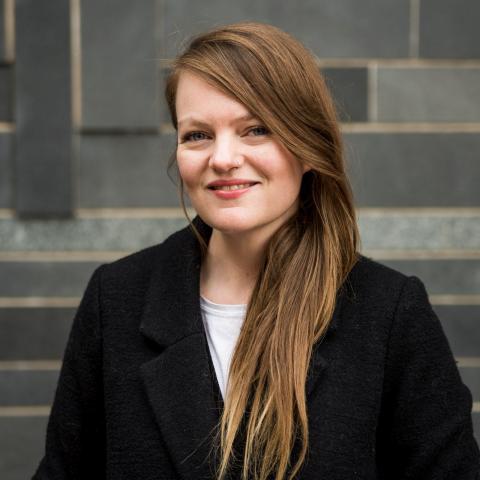 Susann Jehnichen
Brigid O'Shea, the long-time Head of DOK Industry, is leaving DOK Leipzig at the end of February to dedicate herself to new endeavours. As part of the DOK Leipzig team for 11 years, O'Shea has made a lasting impact on the festival's film industry platform. She first joined as the coordinator of industry offerings in 2011, taking over as Head of DOK Industry in 2015.
O'Shea continued the expansion of DOK Industry's programme internationally and solidified its position as Germany's leading industry platform for documentary film. Her passions were equal participation for all, creating a strong sense of community, and of course the great pleasure of personal exchange and networking between film professionals. O'Shea developed numerous formats for the festival, such as the DOK Preview rough cut presentations and the short film pitch DOK Short n' Sweet. The heart of her work was the DOK Co-Pro Market, which takes place each year as the festival begins with around 900 individual meetings. With each of these programmes, O'Shea was always on the lookout for the best-fitting and most sustainable financing and distribution channels for artistic documentaries.
"We are deeply grateful to Brigid O'Shea for her many years of creative work. She has developed DOK Industry into one of the most important international industry platforms for documentary film and created a place in the festival that is known for its commitment, warm atmosphere and intensive exchange," festival director Christoph Terhechte said. "Her approach has always been the expression of an emancipative festival policy. We see it as our challenge to further develop the programme in this direction."
O'Shea put a great deal of energy into the equal promotion of women directors, and several development awards were launched in this area during her time at DOK Leipzig. Her main goal was to open doors for artists regardless of gender or origin. Promoting underrepresented filmmakers and questioning power structures were imperatives that she pursued wholeheartedly.
"Over the past decade, to grow DOK Industry Programme and make a small contribution to the long history of DOK Leipzig has been an absolute honour and privilege. I want to thank my immediate team and colleagues for their support and hard work. Leaving such a beautiful job was not an easy decision, but I hope I am leaving fertile earth for those who come next," O'Shea said. "Most of all, I want say thank you to the partners, accredited guests, and of course the amazing projects and films that have been through our markets, meetings and events over the years, of which there are too many to mention. I'll be looking forward to meeting you all in Leipzig for a glass of wine as soon as we can."
O'Shea will now focus on her work with the Documentary Association of Europe (DAE), of which she is a founding member. Launched in February 2020 as a network for European documentary professionals, it aims to represent their interests within the international film and creative industries, and to strengthen the transfer of knowledge within this community.
DOK Leipzig will announce personnel changes for the DOK Industry section soon. The 64th edition of the festival will take place from 25 to 31 October 2021.
Images of DOK Leipzig and of Brigid O'Shea can be found in our press download area.